What is Product Discovery?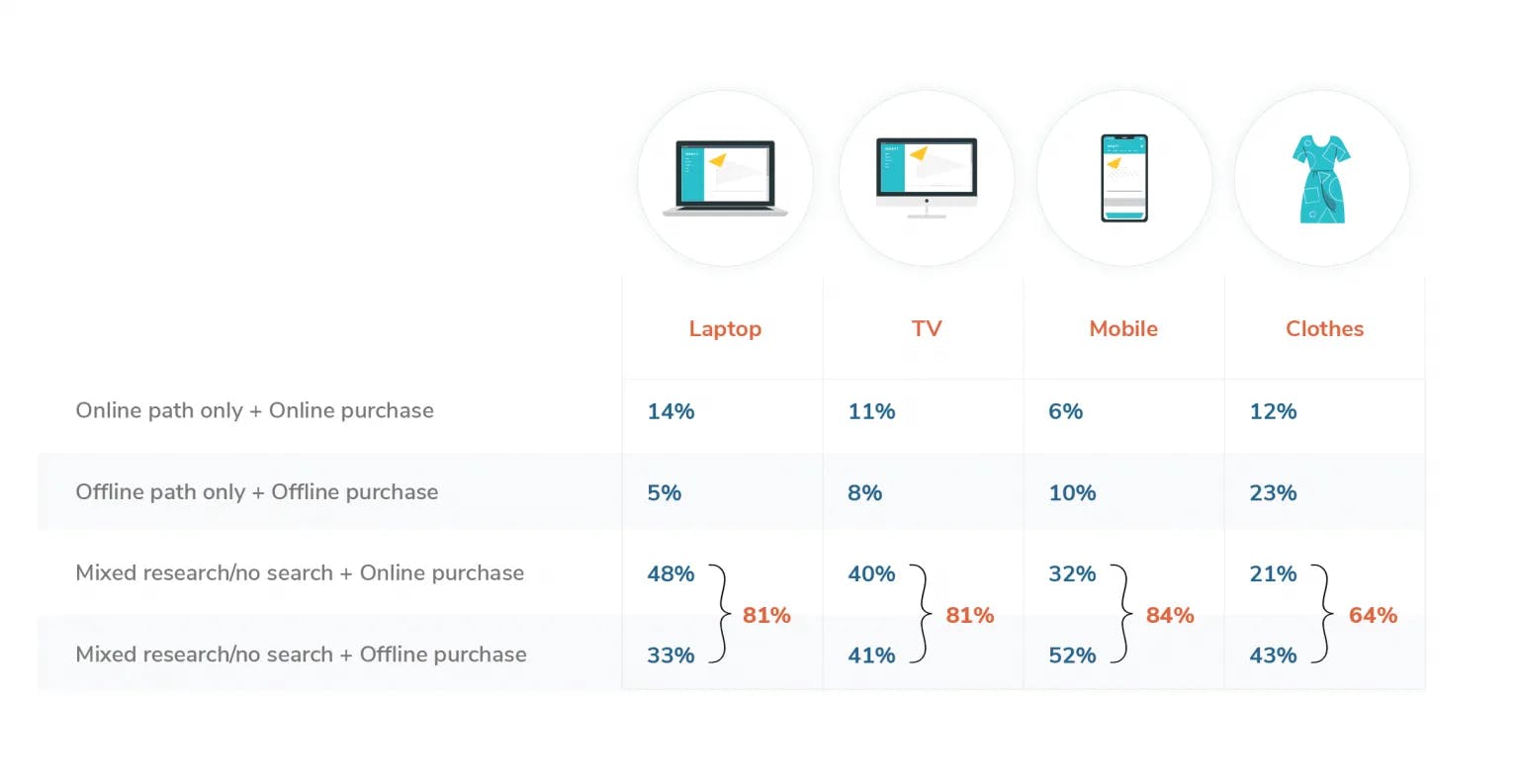 Product discovery involves understanding your customers' purchase intent to present products that sync with their needs. It's a crucial stage in the ecommerce site design process because it helps understand customers' exact needs and offers the products they need.
Shoppers on your ecommerce website have varying intentions to buy a product. It translates into if shoppers are focused on the exact product they plan to buy (high intent), are just browsing around, and are unsure of what they want to purchase (low to medium intent). 
Think about it. Logically, a person with low to medium intent must be surfaced by the eCommerce store with generic and wide-ranging catalogs to help them make an informed direction of thought. On the other hand, a person with high intent to purchase a particular product type needs to be shown close variations of the product they are particularly interested in. 
Whatever the case, uniqueness is the key to each customer's experience with your product discovery journey. A shopper's online behavior is often touted as the key to uncovering the shopper's intent. 
Effective product discovery aims to display the most relevant products for each shopper at the right moment so the customer experience is enhanced and conversion rates are higher. In addition, product discovery aims to provide new and more innovative ways for customers to explore and purchase your products on your ecommerce store.

The low intent phase – searching for inspiration. 
So many mediums – social media, offline retail, marketplaces, search engines, review blogs, etc.- play a pivotal role in defining a consumer's journey.
Let's look at 4 typical products – Laptops, TV, Mobile, and Clothes.
While purchasing each of these four products, how is the purchase decision journey spread over online and offline mediums?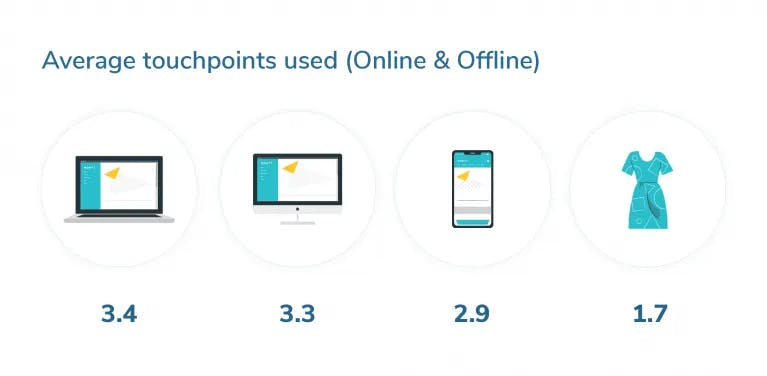 For every four products, to see that shoppers have up to 4 touchpoints with a brand (on average) before purchasing, along with multiple information and opinion sources.

Today, social media, fashion and decor magazines, brand websites, blogs, friends, TV, celebrities, and influencers – and so many more factors contribute to a product discovered by a shopper and ultimately purchased. 
One cannot refute the long-established power of social media as a potent source of inspiration for shoppers – especially for fashion.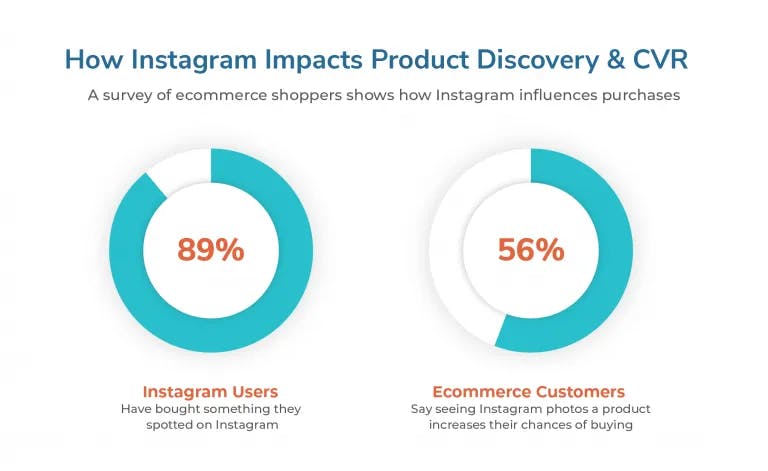 How do shoppers find out about the latest high-end fashion or luxury item trends?
In recent years Instagram has solidified its place at the top of the table for driving inspiration-driven purchases.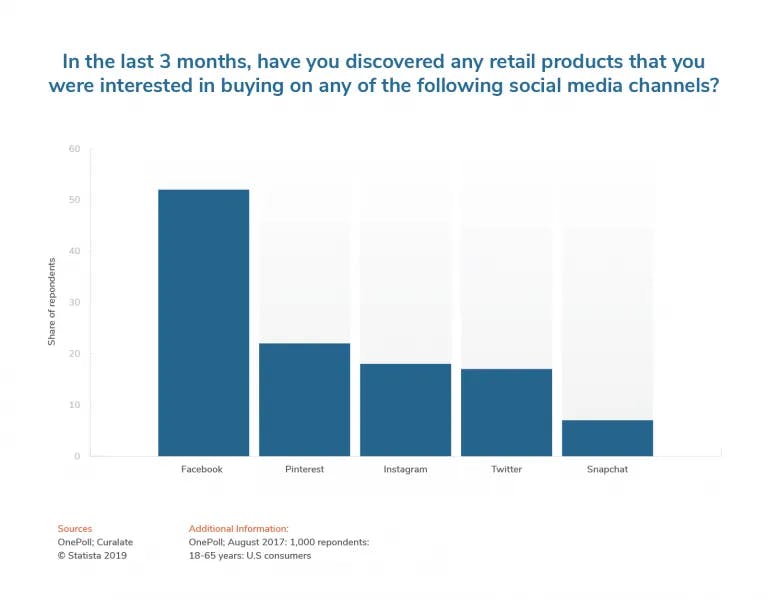 It's clear why brands like Pretty Little Thing, Boohoo, Asos, etc., are succeeding in focusing on digital-first and relying heavily on influencer marketing on social media.
The High Intent Phase – Going For the Kill 
With the advertorial overload on consumers, they encounter scores of new products daily. Therefore, consumers need to be seen in the low intent phase when they are typically in the search phrase with low intent. 
What's more important is that the customer moves to high intent. Then, your brand is around to recommend the right product at the right moment to the right customer. It is the most effective way to attract and convert high-intent shoppers. And there is no denying that this optimized product discovery and purchase journey positively impacts your overall customer experience. Product discovery is a crucial pillar and is indispensable – but often done wrong by brands. 
The ecommerce Discovery Problem
Now that they're done with the inspiration phase, the consumer arrives at the next stage – how to find the product they have chosen in the discovery phase. Consumers often know what product they want but do not know the key identifiers – brand, style, season, and other product details. This point shop is where shoppers start searching on Google or their favorite ecommerce website.
Google found that at least 63% of shoppers begin their purchase journey online in some manner, with social media and search playing a focal role in the journey.
According to Salesforce and Publicis Sapient, "75% of consumers' search queries are brand new each month, showing just how fast consumers are discovering new product types, brands, and features." And this gets us to one of the most critical aspects of product discovery – ecommerce search. Search also lets brands understand what shoppers are looking for on the website – giving them vital information to connect shoppers with their ideal product.
At least, that's true in theory. 
But, most ecommerce search is centrally flawed – with most vendors doing a bare minimum of simple text and phrase matching to throw up product results. Such a scenario makes for a search experience that is non-intuitive and irrelevant – ultimately playing a detrimental role in the purchase decision. In a study commissioned by Baymard Institute, findings on ecommerce search and results show "surprisingly dismal support for essential ecommerce search query types." 
70% require users to search with the same product jargon the site uses
22% of websites don't support search queries for a color variation 
60% don't support thematic search queries, such as "winter inners" or "pool chair."
84% don't handle inquiries with subjective qualifiers such as "expensive" or "best quality."
As many deterrents – as many losses in conversion. Flawed search backend and logic cause irrelevant search results – ensuring that your eCommerce makes the worst first impression. A user will probably search twice, find irrelevant results, and quickly bounce to your competitor's site on the next tab on their browser. The shopping journey is derailed before it's even had a chance to begin.
Those who probably do not use search and are more interested in browsing and discovering – will be left to hit keep next to view an endless list of product listing pages. Such poor experiences ensure, without pardon, the doom of your ecommerce business.
What does poor product discovery mean for your ecommerce?
In case your ecommerce strategies aren't satisfying your shoppers' needs. In that case, it adversely impacts your brand's reputation, customer experience, and conversions. 
Having a poor search experience is akin to leaving money on the table – you had the shopper in your store, who asked you for what they wanted, and you had that in stock, but you could not display the product to the shopper! Such a loss. A single negative experience is all it takes for the kiss of death on your impression of a potential customer. One in three customers will abandon a brand they adore after only one negative experience, and 73% will stop interacting with a brand entirely after two to three negative interactions.
What does this mean for product discovery? 
A lousy search experience ensures that shoppers are ultimately just trying (in futile) to search for products on your website, and you, even though you do stock the product, cannot display it to the shopper. You can imagine the negative impact on your conversions and revenue. 
A considerable chunk of shoppers who don't have the patience to do multiple searches will leave your site – often permanently.
The benefits of better Product Discovery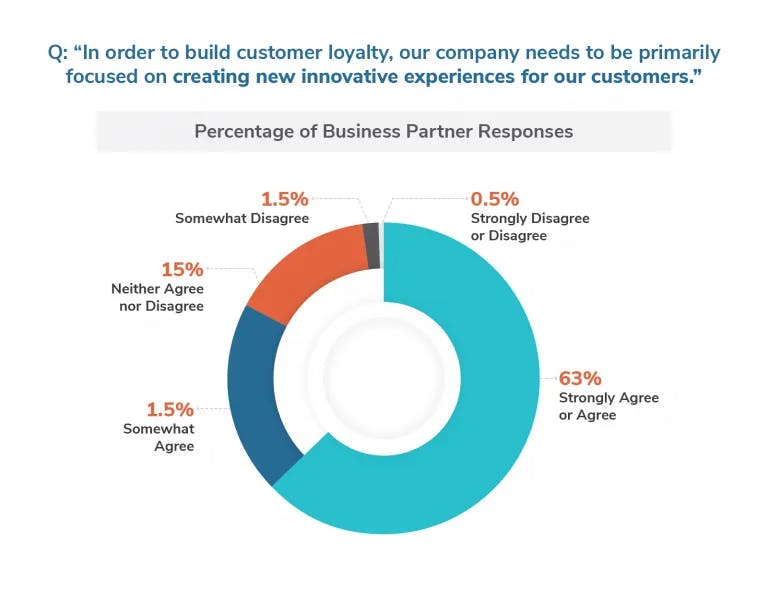 There is no doubt that a superb customer experience will enable your brand to weather the market and bloom.
ECommerce product discovery experiences are no exception to this, having a booming impact on promoting brand loyalty.
Ensuring your customers' demands are met by providing a seamless journey to discovery and purchase increases your revenue. In addition, it increases CLTV and AOV due to a gratifying and intuitive customer experience. 
Personalized product discovery fosters brand loyalty and affinity as it ensures that shoppers feel understood and paid attention to by the eCommerce brand.
Surfacing products compatible with your customers' unique desires and interests generate spontaneous and on-the-fly purchases, boosting AOV. 
An in-depth analysis of what your customers are searching for enables you to predict trends, manage inventory, and ultimately make more intelligent and revenue-driven business decisions. 
How can you get started with effective product discovery?
Product discovery implementation and optimization is a vast and messy subject with many stakeholders playing a pivotal role – from your tools, technology, data analytics, business goals, etc. But cutting through the mass of information, there are some quick initiatives you can deploy to push your business toward developing effective product discovery. 
Shoppers who land on the homepage of your website do not want to view particular products. The first impression is vital, and your homepage should be able to engage the user. It needs to be constantly updated to create stickiness from the shopper, attracting them to browse deeper.
 
Ensure freshness on your web pages. The collection of popular and trending products, fresh arrivals, inspirational books, and informative and engaging content is instrumental in helping guide shoppers further along the purchase journey. Keep it fresh by showcasing collections of trending and popular products, new arrivals, inspiration galleries, and educational or social content that subtly promotes your items.
 
Make your site easy to navigate and well-loaded with filters. The aim is to make it so easy that your 70-year-old grandmother can quickly arrive on your site, peruse your menu to view detailed categories and sub-categories, choose the relevant products, and complete the purchase.
 
Be near your customers – Are your customers more active on your Instagram? Create a bustling Instagram shop. Are your users browsing more through mobile? Optimize your website for mobile and think of launching an app. It's a no-brainer. It would help if you stayed relevant, where your customers are. 
How about tools and technologies?
At the scale of eCommerce now, technology forms the backbone of any effective product discovery strategy. Tools and technology combined with human decision-making on a trial-and-error basis will enable you to always experiment – incrementally optimizing your product discovery and smoothing the path to purchase for your shoppers. 
Relevant and intelligent search 
Traditional (and most prevalent) search relies heavily on product tags and simple phrase matching from search terms. It leads to limited and poor results, with no mark of intuitiveness. Your investigation needs to be competent enough to understand synonyms, colloquial jargon, and often typos. Stemming, autocomplete, and tokenization needs to be an integral part of your search. Having the ability to semantic search relevance is a huge plus point. 
AI and ML technologies for personalized product discovery at scale
Research from Sonar, quoted by Forbes, reveals that consumers are interested in how retail will use AI: 70% of US millennials, and 62% of millennials in the UK, say they would appreciate a brand or retailer using AI technology to show more interesting products. Furthermore, 72% and 64% of millennials in the US and UK, respectively, believe that brands using AI will predict what they want accurately as the technology develops.
AI and ML technologies enable you to make sense of your vast user data and behavior patterns, eliminating the manual work and working with a single goal in mind – creating an excellent CX. In addition, AI and ML technologies enable contextual search, recommendations, and content personalization on a scale, enabling your site to behave as a personal concierge to each shopper – always there to help and push for conversion. In contrast, ensuring shoppers feel that they are heard and understood. 
Data is the dark matter behind everything.
Every visit a shopper makes to your website, a click on an email, percent of videos watched on Facebook, and click patterns on a particular product catalog are essential and relevant data you need to collect, record, and analyze. Data enables you to form a realistic picture of your customer'scustomers' needs and intent and will help you inform your decisions on what can be done to boost conversions, CLTV and AOV. 
Visual search is the subsequent necessary incorporation.
Shoppers often find it challenging to put in words and search terms for what they are looking at. It's hard to search for a shoe style you happen to see on a stranger at a party. It explains the advent of visual search in recent times. It's more accurate for categories like fashion, décor, cosmetics, jewelry, etc. – those that are more style and aesthetics-oriented. Users can search for products they find hard to put in words for a text search with a visual search. Visual search is a game-changer and truly can create an intuitive and well-loved customer experience.
A finding by Accenture shows that "by 2021, early adopter brands that redesign their websites to support visual and voice search will increase digital commerce revenue by 30%."
What's coming for product discovery?
Customer obsession is one key thing that should remain immovable after cutting through the complications. A tool that touts to solve all your search issues and recommendation engines sound excellent. But if your customer does not respond, it serves no purpose. With product discovery, it's crucial to meet and exceed market and target audience expectations.
When you talk about product discovery, you are not limited to ensuring that the ranking of your products is relevant, your product information is correct, etc. These minute things, of course, need to be corrected. There are no two thoughts about that. Implementing a robust product discovery technology like Unbxd site search allows you to do that. 
Having a robust technology to fall back on and take care of minute things, you can maintain an encompassing view of your customer's interactions with your brand. It allows you to have a bird's eye view and make strategic decisions that affect your brand and its relation with shoppers in the long run.
Unbxd is an AI-powered product discovery platform that helps brands exponentially scale online with relevant and personalized customer experiences. Contact us for a free demo!