Why is it important for eCommerce stores?
Why is it essential for eCommerce stores?
The million-dollar question is why do eCommerce sites need special makeovers during the holiday season?
Let's look at it statistically:
In the year 2019, the percentage of annual sales spiked by 18.8% from the year 2018
In 2019, the US holiday retail sales reached 1.01 trillion dollars surpassing  the $1 trillion mark for the first time
While cyber Monday witnessed sales of $9.1 Billion, up from $7.6 Billion in 2018
And the most sales-driving item last year was smartphones. Almost 48% of revenue was driven by smartphone sales.
Now, if we look at the entire 2020 situation, we realize the dependency on the online market will be a manifold time. 
In fact, according to Deloitte's annual holiday retail forecast, eCommerce sales will increase by almost 25%-35% in 2020-21 against the 14.7% increase in 2019. Looking at the stats, fathoming the increased need for a proper online store is not difficult. 
But where do the eCommerce sites fail?
The power of undervaluing the scenarios.
The holiday season is one of the most significant events to let you stand out as a store. But, even then, a multitude of them fail; why?
Underestimate the power of order load
Underprepared
Don't cater to specific audiences
Do not plan strategies in advance
Create no boilers, excitement, or surprises
No in-place discount strategies
Difficult navigation to find holiday-specific items
With so many problems, you must follow a few tips & tricks to maintain your name in good books. So let's look at the top 10 tips!
10 tips for your store during the holiday season
After you have diagnosed that your store might need a seasonal revamp, let's dive into the practical tips that you could possibly incorporate: 
Better homework, better savings in the future
While everyone awaits the holiday season, start preparing for it by raising the serotonin cells of your audience. Then, to get your arms around, create a content strategy for your promotional week.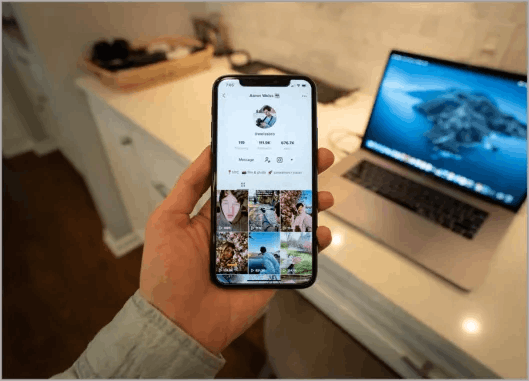 Let your content strategy include the following:
The type of content you need to post
Social media channels you'd target
The visuals that will attract attention
The subtle use of early discount codes
The frequency of emails or posts
For many social media posts, 65% of impressions on social media posts are also because of video marketing. Try leveraging more of what's working in the current market. Post-creation of your content strategy, you prepare to stand ahead in the season in the upcoming uproar.
2. Personalized content
The personalized email content was the only reason Jack navigated for the first site, even though it acted so sloppy. 
"Hey Jack, \n\nWe know you've been searching all day long for a perfect holiday gift for your friends & family. \n\nBut no more blind searching, you've got us. \n\nWe at, a fluff-free shop, are offering a 20% discount just for you. \n\nHave a look for yourself here: ----"
And just like that, they garnered one customer. Let's look at one such example from the Spotify brand.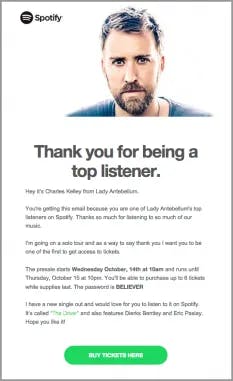 Personalization indeed makes the audience feel wanted, welcomed, and acknowledged. Prioritizing convenience, 87% of shoppers admit to buying more when they receive personalized messages from brands. So, tweak out a few problems your audience faces and create personalized emails for them storyboarding around it.
3. Discounts for loyal customers
When offering personalized ingredients to your shoppers, channel your loyal customer list. The loyal customers are the ones who have either stayed with you for a long or have ordered multiple times over 6 months or so.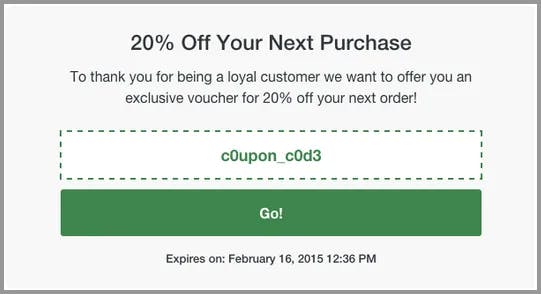 Such customers definitely would like a special discount on holiday items for themselves. This ensures a contingent stays with you for even longer while also organically marketing you online.
4. Prepare enough to handle all the order load
Now that the pre-setup of marketing well is done work on your website. The number of orders based on your marketing would increase like crazy. 
Imagine, you offered, 
Enter the Happy Code HP50 for 50% off on all holiday products. 
And the not-so-happy site acts bedraggled and asks them to wait before the request is processed.
Urgh.
So, better let your developers and testers do every possible beta testing while making server upgrades to handle the entire order load. As we saw above, the increase in sales this year will be much-hyped, with almost 63% of visits; therefore, make sure it doesn't fall down like a game of Jenga.
The ones who have visited explicitly for holiday items: For them, custom-curate holiday-specific  landing pages with discount visuals for easier placement of orders
The ones who are regular shoppers: They don't care about the holiday season but visit for everyday needs. Cater to them  by highlighting the products they are more likely to buy from your online store

5.1 Your brand-specific landing page:
When our back end is pumped up to handle any order hit, our front end should bring us the leads.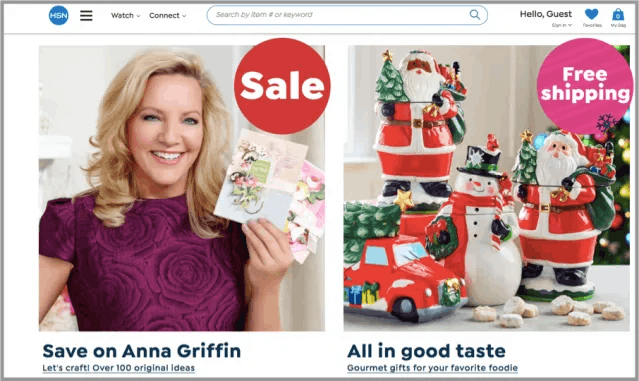 To prep for your holiday season, you need to pay serious attention to your audience:
The ones who have visited explicitly for holiday items: For them, custom-curate holiday-specific  landing pages with discount visuals for easier placement of orders
The ones who are regular shoppers: They don't care about the holiday season but visit for everyday needs. Cater to them by highlighting the products they are more likely to buy from your online store.
6. Monitor your site analytics
Keep an eye on 'How your website is performing and 'How many visitors it receives on a normal day.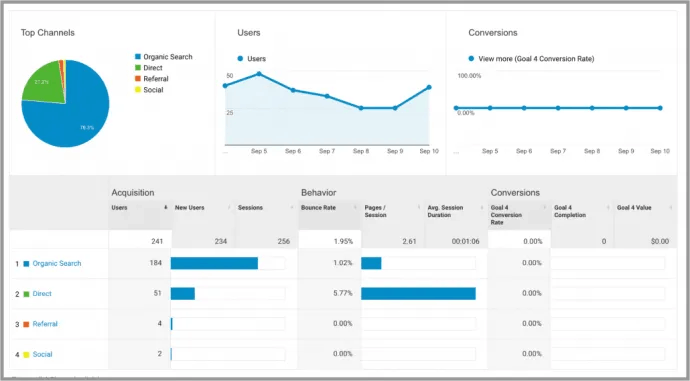 To avoid losing customers during the holiday season, monitor the landing page's loading speed. In fact, in 2012, Amazon lost $1.6B because of a delayed site loading experience. Again, this reminds us of how carefully we must put our best when creating a visually-heavy site. 
7. Easier checkout
Imagine Jack visits your site, likes a product, and tries to order it. But every time he tries to order it, the discount doesn't work. What a waste of holiday vibes!
So, don't let any Jacks leave your site because you cannot handle them.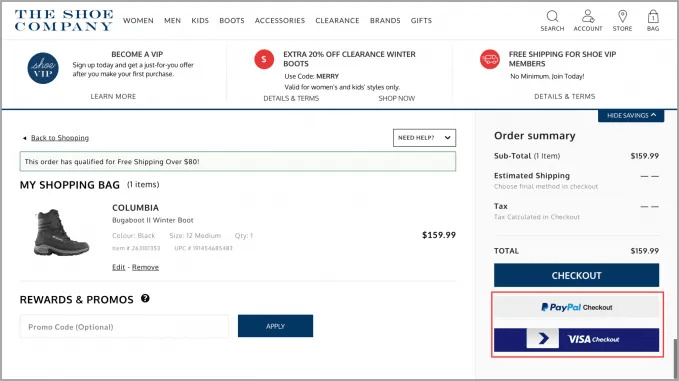 Create a superfluous process for adding and ordering the product with discounts applied.
8. Avoid frequent displays of 'Out of Stock 
Regardless of the holiday season, I won't return for normal shopping if a site keeps showing 'Out of Stock.' To avoid disappointment, it's best to keep an accurate inventory count or mention how many items are in stock. A tag showing how many things are in stock is an excellent way to avoid disappointing the shopper.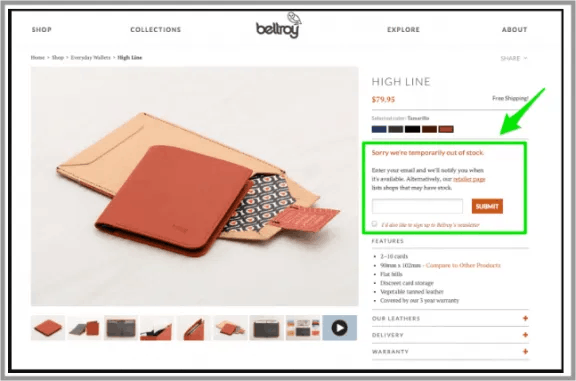 People would love such transparency, and it would create a sense of urgency to buy something before it's gone!
9. Platform-Agnostic 
Whether it is Mac OS, Linux, Android, or iOS, your customer base can vary from platform to device, so prepare your site to be platform-agnostic.
Company X planned to send emails and SMSs to their potential shoppers. Unfortunately, intriguing shoppers clicked the link only to find 'This link does not work' or 'The webpage was not found.' This happens primarily because of a wrong link sent to millions. Even if the link works, it is more surprising if the UI is crumpled and spread across the screen. Make sure your shoppers can grab your offer from any device - desktop, mobile, or tablet, using Safari, Chrome, or Internet Explorer.
10. Perfect customer service:
You have a perfectly organized strategy in place. The site is up and running. Shoppers are hogging the discounts day in and day out. What could possibly go wrong?
And even without a problem, your users expect a solution. So be prepared for the same. How?
You can serve your customers through Live Chat. People who face any issue love an on-the-spot chat to resolve their queries. Chatbots are a great way of addressing customers' queries and requests in an automated and faster way. 
"Don't know if the delivery address was correct."
"What about the return policy?"
"My payment method is not available."
"Is COD available?"
Answer all your customer questions with a responsive answer with an option to talk to a customer executive if the problem persists. Having a dedicated FAQ to answer the most basic queries during the holiday season can be really helpful in building trust with customers.
With all the tips mentioned above, you will nail the holiday season. But as said earlier, this is definitely no cakewalk. So, plan for the holiday season and try to fix your site as much as possible to leave your shoppers happy at the end of the purchase. 
Whether you need to fix search queries, zero search results, spelling mistakes, or stemming errors on your website, or you want to boost your products with slick merchandising techniques, create landing pages or banner redirects for a holiday curated shopping lists, Unbxd does a great job. Unbxd can help you set up your site search and in-depth analytics for your online store to get an in-depth look at your funnel metrics. If this interests you, you can request a demo here. 
For now, wishing you and your teams a happy and rocking Holiday Season in 2020!