Best practices to improve eCommerce Product Recommendations. 
ECommerce stores need to implement recommendation widgets carefully on various pages on their site to achieve the above objectives. Here are some best practices that eCommerce stores can use to optimize product recommendation performance:
Homepage
Search Results Page
Category Pages
Product Detail Page 
Shopping Cart Page
Homepage
The homepage is the main landing page of your site. It should offer cues to help your visitors start their shopping journey – this could be through a visible search box, a straightforward navigation structure, and personalized recommendation widgets. For example, on the homepage, we can categorize visitors into two types – new and repeat.
For repeat visitors, you can recommend products they have viewed in the past but not bought, personalizing their shopping activity on your site. Or you can show similar offerings to what they prefer in terms of the price range, brand, color, and various other factors.
Another way to personalize the homepage is to segment visitors based on factors such as their location, language, and device type. This can allow you to present them with content and offers that are more relevant to their specific needs and preferences.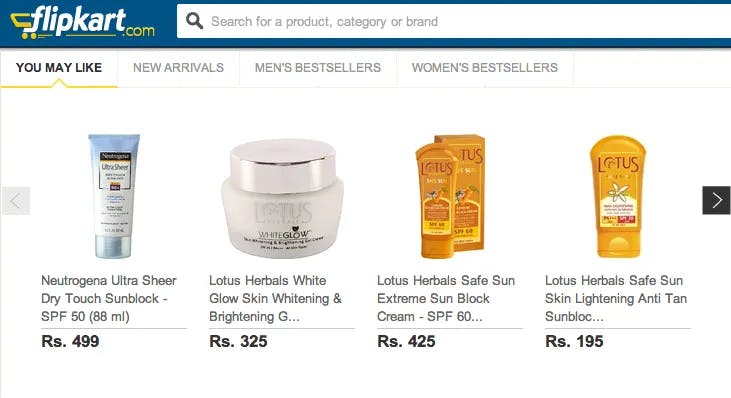 Top sellers, Recently viewed
For first-time visitors, it's best to show top-selling products, to help them discover popular products. As you might have little information about the new visitor, it's best to display products based on the crowd's wisdom.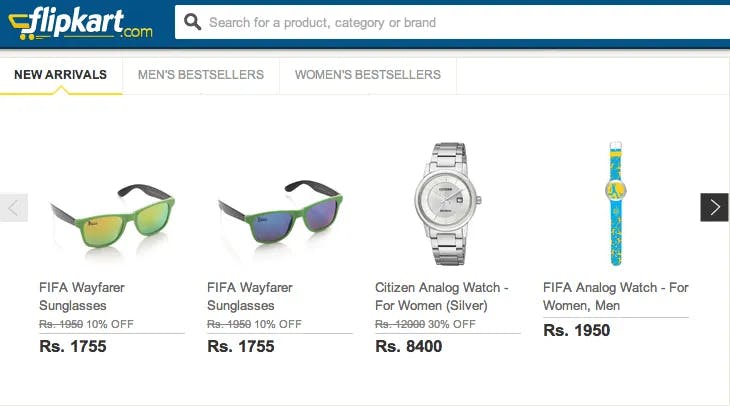 Flipkart shows widgets based on new & repeat visitors. It is a practice that eCommerce sites should follow to target customers better.
Search Results Page
On the search results page, you should offer personalized suggestions to visitors as they already intend to purchase and are likely to convert faster.
In this case, it makes sense to show items that have been viewed previously (this is especially useful if they're searching for a similar item or trying to compare two things). But, of course, your recommendation engine must be intelligent enough not to display products that have already been purchased.
Another option is to show personalized recommendations based on their history. For example, with Unbxd Product Recommendations, search behavior is considered while offering personalized recommendations, so adding this widget to the search results page can also lead to higher conversions.
Category Pages
Visitors using the site's navigation tend to be browsing, and their buying intent may not be as strong. So here, it's crucial to show recommendations that allow them to discover popular products within the category.
While eCommerce stores can show top-selling products by category on category landing pages, top sellers by brand on brand pages to help navigate top-selling products within that brand.
Product Detail Page
The product detail page is a crucial link in the conversion chain. Therefore, correctly optimizing the product detail page can drastically improve conversions. 
This makes it doubly important to show people appropriate recommendations that help them discover similar products.
The idea is to make sure visitors discover better products that prevent them from bouncing (if they don't like a particular product they're viewing) or encourage them to add more products to the cart.
You can upsell higher-value products directly from the product detail page. For example, showing laptops with a better configuration or more accessories can help increase cart spend.
Shopping Cart Page
Shopping cart pages should suggest complementary products to prevent visitors from abandoning their shopping carts or bouncing off the page.
Product recommendations are now considered one of the primary product discovery & conversion channels on eCommerce websites, and merchandisers must maximize their functionality. The best practices mentioned above can help optimize your recommendation widgets and increase conversions.
Predict and recommend products in real-time with personalized and contextually aware recommendations. Discover Unbxd's Recommendations, Book a Demo.