Here's an interesting article by digitalcommerce360 on how digital penetration is increasing each year and how shoppers are becoming more comfortable shopping online.
Shopping today is no more a mutually exclusive activity. It is a journey of product discovery and selection accentuated by connected experiences across devices, channels, and maybe languages across borders. Hence, shopper delight does not happen at a single touchpoint but across the shopping journey – from exploring various products to finally making a purchase.
This puts exorbitant pressure on eCommerce stores to create a uniform and coherent shopping experience for shoppers – irrespective of the device and the channel they choose to buy from. 
Any inconsistency in product information – be it size, product availability, color variants, pricing, or availability at specific pin-codes  – leads to a poor product experience. This will result in either loss of sale, product return, refund, or a negative review.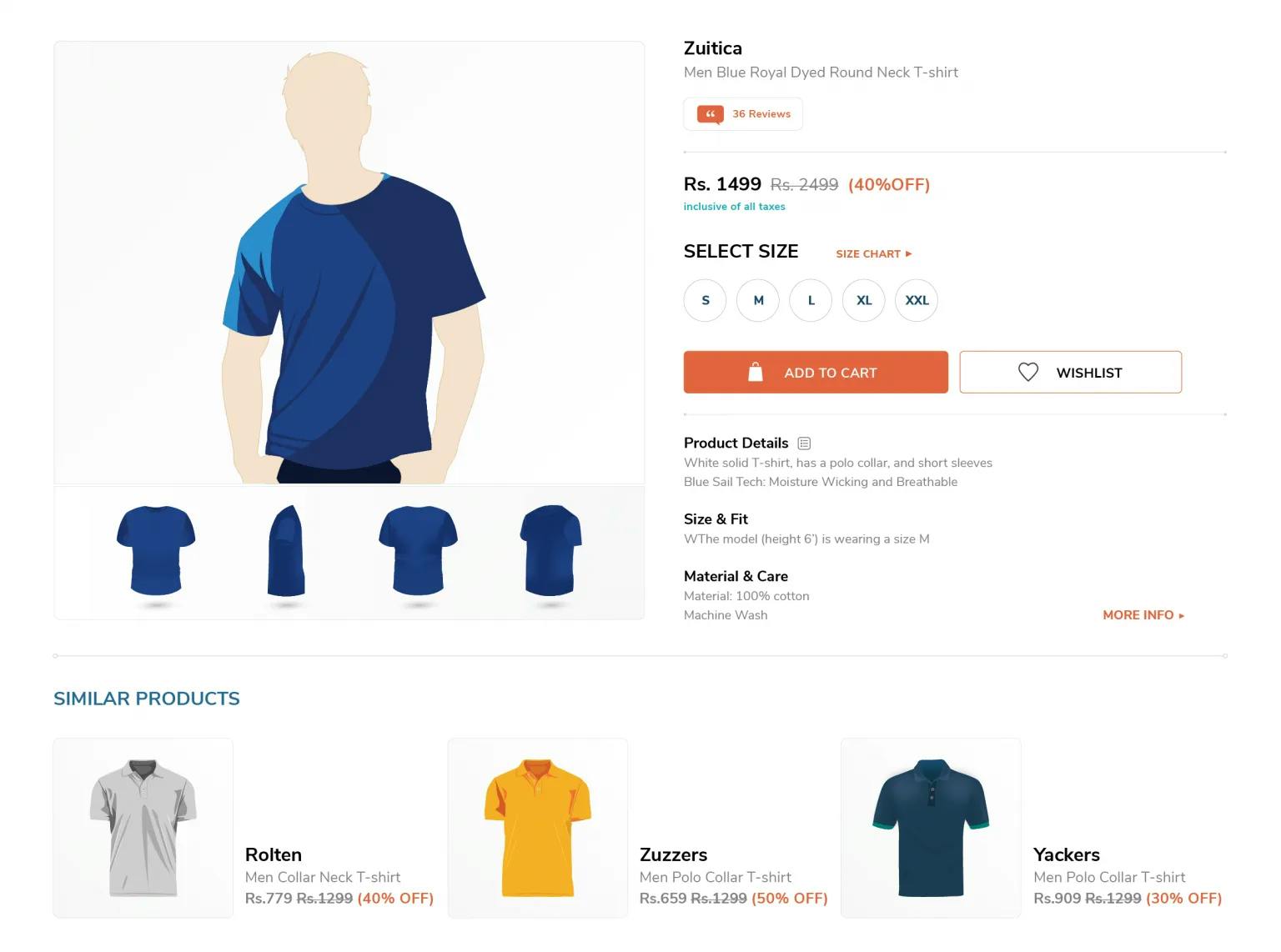 Let's take an example. Let us say your shoppers spend most of their time browsing products on the Facebook marketplace or Google Shopping. So as an eCommerce store, you would want to showcase products on respective channels. But what if your product title and descriptions are dull and boring? What if the images are plain and simple without having any appeal to the end customer? What if your shopper is looking for a product in Canada and the product information that you display is in English (and not French)? 
There is a huge mismatch between how shoppers want to consume and experience your product and how you are delivering the same product content to your shoppers. 
End Result: The shopper will leave the site or switch to other options available on the marketplace. There are multiple channels and aggregators with millions of products listed on them. There are thousands of brands and online retailers competing with each other to showcase their own products. And there are so many product options to choose from. In this entire process of discovering and selecting the right product – there is only one thing that stands out – product experience.  
Hence, the need for Product Experience Management.
What is PXM?

As we have seen above, there has been a drastic change in how shoppers engage and interact with products nowadays. To cater to those channel-specific requirements, merchants need to provide shoppers with consistent and comprehensive product information. They need to enrich the shopping experience with rich media, GIFs, experience videos, and accurate product descriptions and images. Creating compelling product experiences is a must to establish a connection with the shoppers.
In an experience-driven commerce world, where customers are connected across the shopping journey, it becomes imperative to deliver product experiences that are relevant and customer-centric. Online stores need to establish an emotional connection with the shoppers to boost sales, build brand loyalty and increase the overall CLV (Customer Lifetime Value).
Product Experience Management thus is an end-to-end process of delivering product experiences that attract and convert shoppers.
Use-Cases of a PXM
Attracting and converting shoppers is not that easy in such a convoluted shopping landscape. 
Let's say a shopper finds a mustard-colored jumpsuit – she has been looking for some time – on a social commerce channel. She sees multiple products, gets lost, and drops off the website. She logs into her Instagram account and sees the ad for the same product by the same brand (owing to higher time spent on that particular product on the social commerce channel). A highly appealing product title (Mustard Jumpsuit) with an apt product description shows up in her feed. She clicks on the product and finds multiple color variants available for the product. In the fold below the product, she also finds a matching pair of sandals.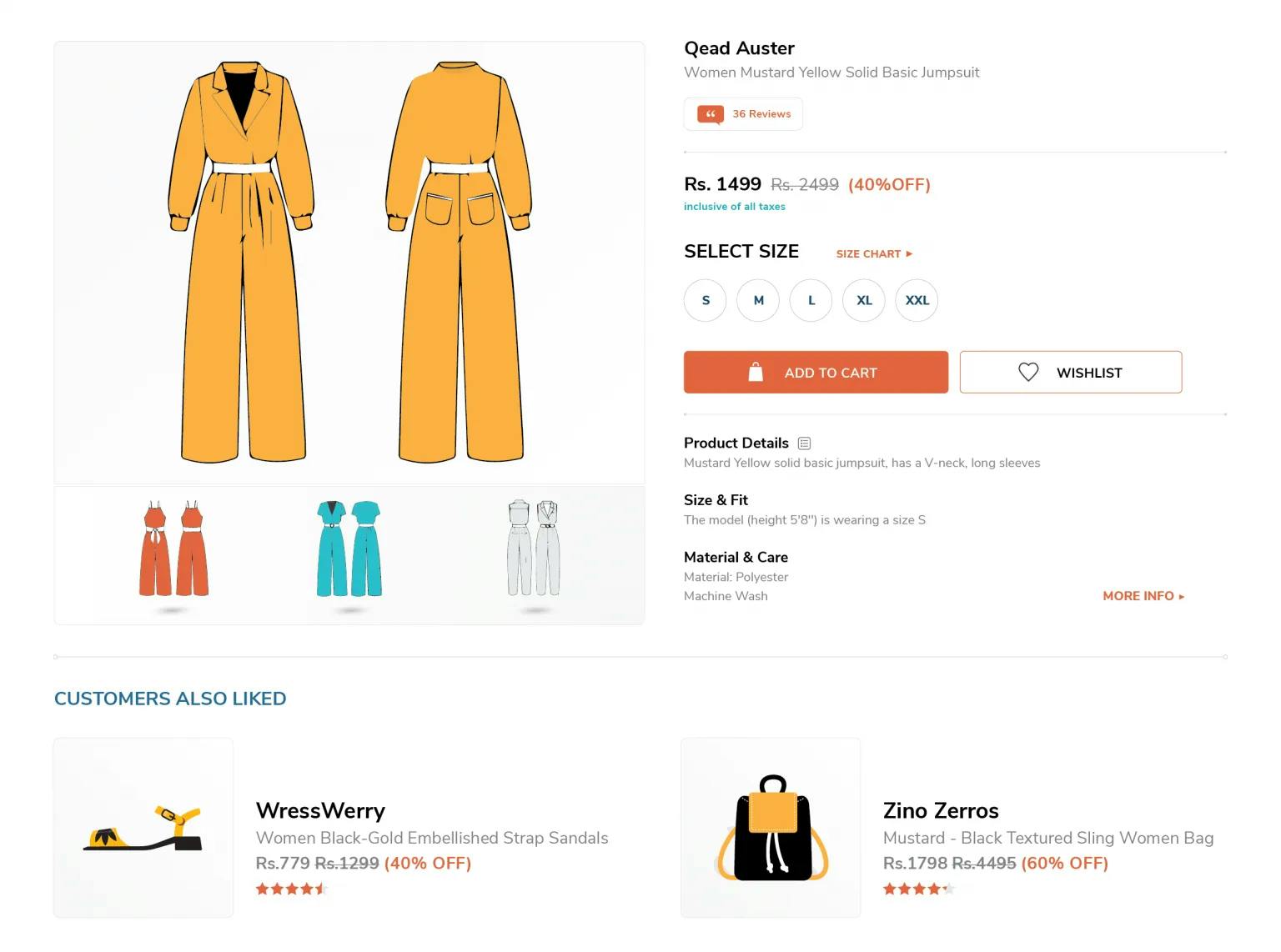 She also sees customer reviews pulled into the side scroll. This is accompanied by data such as the number of shoppers exploring that particular product at the moment and inventory left in stock. This pushes her to make the purchase. She ends up buying not only the jumpsuit but a pair of sandals and a sling to go with it. 
What drove the shopper's decision?
A connected, relevant, and contextualized product experience. 
The shopper's decision to click on the product on her social media is driven by the customized product information that was different from what she had observed on the social commerce channel. The customer-centric actionable insights supplemented the decision to buy the product right then. The hyper-contextualized product recommendations pushed her to buy not only the jumpsuit but also other products along with. 
In this way, a rich product experience across the shopping journey uplifts the brand's conversions and cart size. 
This shopping behavior is not limited to the fashion vertical alone but also drives conversions across other verticals such as homeware, home furniture, electronics, grocery, health and pharmaceuticals, and even B2B.
Simple nuances such as 
showcasing calories in a particular food item in the product description,
labeling the food as a fit for Keto or a Paleo diet,
showcasing table mat along with the table lamp in complementary color variants,
3D home views to build more context and bring the products to life,
providing supplier data for a guitar of a particular make,
enriching the product description with live sound graphs and live performance,
etc., go on to create delightful shopping experiences for the shoppers. 
Product Experience Management thus is an overarching theme that connects the dots for the shoppers. It gathers and produces product content to engage customers and trigger buying decisions. It orchestrates the unique shopping experience shoppers enjoy. 
Underneath, PMX combines multiple standalone units that work together to deliver these rich product experiences.
Components of a PXM
PXM still is a novice and a trending term. It has not been completely defined and understood by the industry and its end-users of it. Everyone seems to be more sure about the expectations of a PXM but is not very sure about what makes up a PXM solution.
For simplicity and how we see PXM evolving in the future, the following can be seen as foundational blocks for a Product Experience Management solution:
Product Master Data – set of unique identifiers, and product attributes that define a product. This data is likely to be maintained by separate business systems such as MDM, ERP, etc.


Rich Product Content/ Product Information Management (PIM) – The system that consolidates, transforms, enriches, and distributes fragmented product data. It produces customer-facing rich product content for ready-made use for multichannel marketing and commerce.


Digital Asset Management (DAM) – It manages unstructured product files such as pictures, multimedia, videos, documents, etc. A typical DAM takes care of the planning, creation, storage, and management of these assets and metadata.


Product Content Syndication (PCS) – The output of a PIM or a DAM solution is then shared onto the marketplaces, and target channels with the help of a PCS. A PCS basically helps a merchant structure, optimize and distribute product feeds.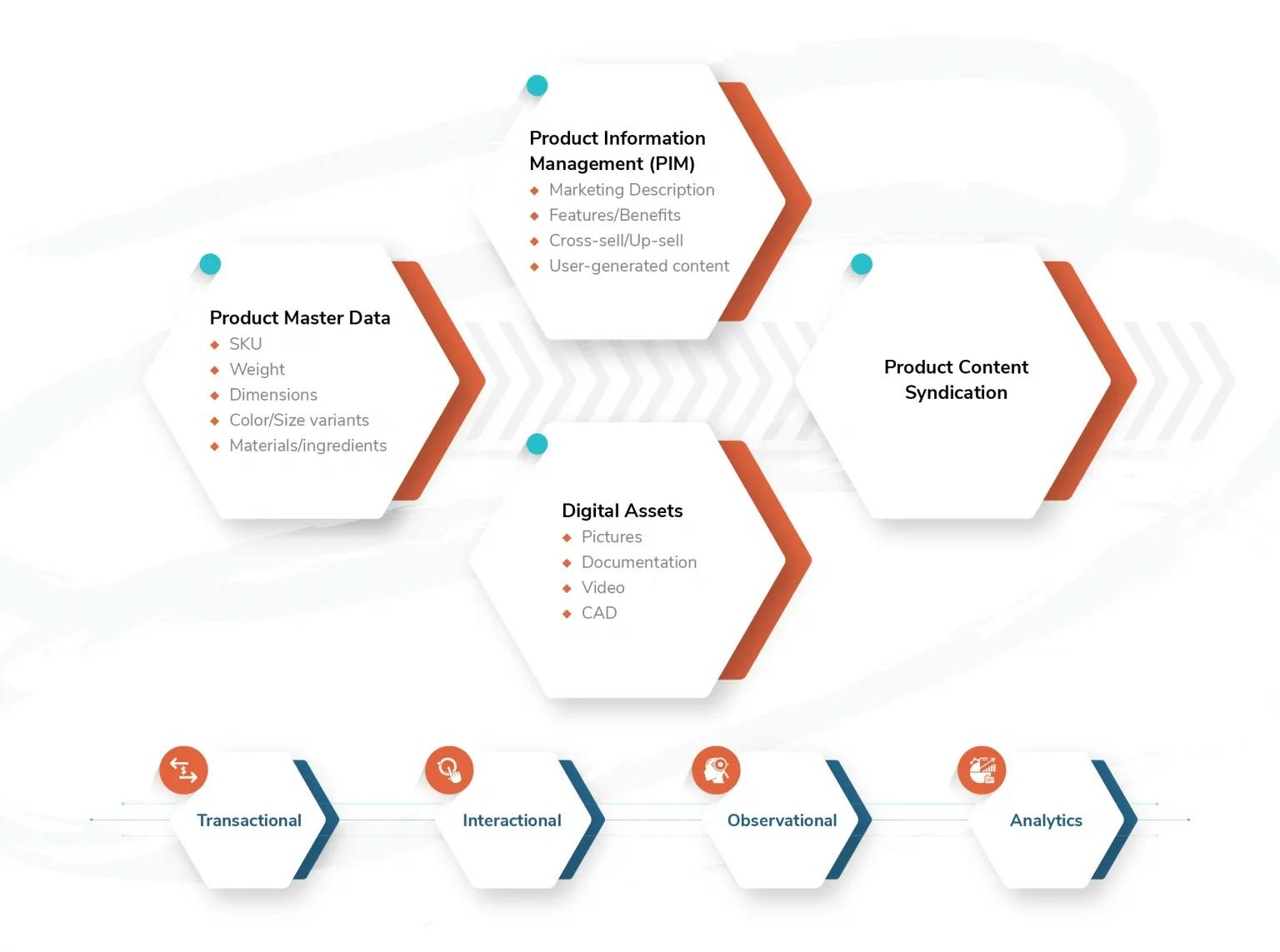 While master data is invariably about attaining the semantic consistency and completeness of product data, PIM and DAM are becoming increasingly context-specific. 
This change is driven by the need to create customer-centric experiences. To better target, attract, and engage customers and drive purchasing behavior, product content optimization in digital commerce involves using product data and content – tailored to curate unique experiences. 
This has led many organizations to create a 360-degree view of their customers to understand their needs better. This is supported by a 360-degree product view that must be employed to create relevant customer-centric experiences such as unified retail commerce.
However, to achieve this, all the above components must interact with behavioral data assets – including transactional, interactional, observational, unstructured data, and analytics. This will then help assess the impact and effectiveness of product information across many context variations.
Now, what we have as an end result is product information intelligence that powers end-to-end Product Experience Management. Today, not many organizations have been able to understand and deploy this complex architecture of components fully. Still, we see this as a strong building block for anyone looking to implement a solid and trustworthy PXM for their end shoppers. 
It is important to note that Product Information Management (PIM) plays a crucial role in creating compelling product experiences.
How is PXM connected to a PIM solution?
PIM and the use of PIM come with some inherent challenges. Many organizations use PIM:
Are often uncertain about the value and benefits of a PIM solution
Fail to realize the full potential of a product information system
Often fail to connect product information with other useful behavioral data assets
This leads to PIM being present as a hygiene tool rather than a value-added service for the business. This is where PXM puts PIM into effective use by:
Creating a 360-degree view of the products by connecting rich product content, digital assets, and master data in support of creating customer-centric experiences

Extending the use of PIM by incorporating transactional, interactional, observational, and analytics data to create actionable business insights
Unlocking the potential for  customer-centric business value creation

PXM thus extends the PIM solution in the following capabilities (as quoted by Gartner):
Product Content Analytics
Personalization
Contextualization
Automation and Optimization using AI/ML

Everything that PIM generates as an output becomes a credible input for a PXM to create a relevant and contextualized product experience for shoppers at multiple touchpoints. This makes PIM and PXM inextricably linked to each other in the journey of digital commerce.
Benefits of a PXM
PXM leverages everything about the product and the shopper to deliver a customer-centric, personalized, multichannel, and social-powered experience that attracts, engages, and converts shoppers. PXM connects the product data with customer data to improve the understanding of the customer so that eCommerce stores can better tailor communications, services, and interactions on an individual level. Here are the benefits of PXM:
It centralizes management of customer, product, supplier, and other data, applies machine learning and other AI techniques to that data so you can link transaction and interaction data.
It makes more meaningful product recommendations by connecting what you know about each customer to what you know about every product.
It delivers product information at the right touchpoint at the right moment for every customer, thus improving the omnichannel customer experience.
It results in more precise and effective dissemination of product information based on where the customer is and from where they are trying to access the information.
In a digitally connected world, shoppers are experiencing products and content across multiple channels simultaneously. Rich product experiences will be key decision influencers in how shoppers perceive the brands and products they are looking to purchase. And thus, PXM is going to be a key revenue growth driver for all these eCommerce stores, brand and retail stores, and multi-brand outlets trying to reach millions of online shoppers.
Conclusion
After looking into how digital commerce is evolving and how future retail stores are trying to leverage technology to support that growth, it is for sure that providing hyper-contextualized, personalized shopping experiences will be one of the key objectives. To deliver these distinct and engaging customer experiences, PXM will act as the backbone for eCommerce.
The organizations would constantly need to match product information with actionable customer insights to increase customer loyalty, sales, and margins. There will have to be tight-knit closed-loop feedback that can put product data, rich content, and digital assets near all customer-level transactional, behavioral, and interaction datasets as well. And Product Experience Management (PXM) is well equipped to deliver the same for the retail stores of the future.
Unbxd PIM empowers your digital shelf with the easy import of product information, manage, optimize and enrich product content at scale. Reach out to us for a free demo!