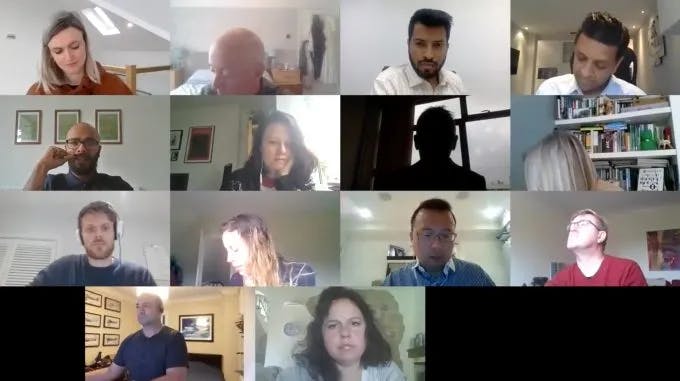 With this deep-dive discussion, the conversation flowed from implementing product discovery for personalization at an execution level to a larger sentiment of brands embracing personalization as a key value. The symbiotic role of human decision-making and AI and the feeling that one cannot do without the other were widely echoed by all participants.
What does Product Discovery mean for a brand at a realistically strategic level?
We asked the retailers about the pressing challenges preventing them from providing their customers with a seamless search experience. The results of the poll among the retailers were interesting, with a good percentage leaning towards having just basic merchandising controls and lacking resources and tools to implement a perfect product discovery strategy. . This props up another question about the biggest hurdles for implementing product discovery.
One of the biggest issues brands face while designing a robust product discovery strategy is understanding the shopper's intent. While shoppers with high intent know exactly what they want to buy and what to search for in an eCommerce store, low to medium intent make not-so-refined search queries.
Combined with the fact that they do not know the exact products they need, it confuses the underlying system. For example, DIY and Craft eCommerce stores can face a considerable challenge and add a layer of complexity to the on-site discovery experience. 
Keeping these challenges in mind, to start building a rudimentary execution strategy, retailers should use listing tools to aggregate search results on-site over a sustained period- of 30 days to help them segment the top trends, popular search queries, and critical areas to focus upon. 
This helps them drive improvements over a period of time, graduating to produce better results and, at the same time, drawing valuable insights from a future perspective. 
But plan to do all of this manually. It will take you months and years to understand the shopper's intent, collate data, make meaningful insights out of that data, and optimize the experience for the shoppers in real time. Plus, it will rarely be in real-time. However, AI and ML technology can be immensely powerful in processing vast amounts of data and search results in arriving at key areas to focus on. 
Technology implementation is essential, but human intelligence and decision-making abilities can be refuted out of the mix. The ability to form hypotheses on customer behaviors, enabling the deployment of testing across top category pages assortment, will drive incremental improvements rather than having to rely solely on technology to see results. 
This also becomes of paramount importance when we look at another basic key aspect – breaking down the key steps to personalization into different workflows and algorithms to drive results to deliver critical improvements in focus points like Product Discovery, Personal Product Recommendations, On-site personal category experience, , and integrated inspiration.
These strategies combine to deliver an enhanced experience through accurate product descriptions, images, and other product-related information. In addition, visual-guided autosuggest experience, fields, and facets for efficient filtering of products, landing banners, and redirects for specific marketing campaigns are critical to building that seamless shopping experience. 
Why  personalization is key for a successful Product Discovery strategy?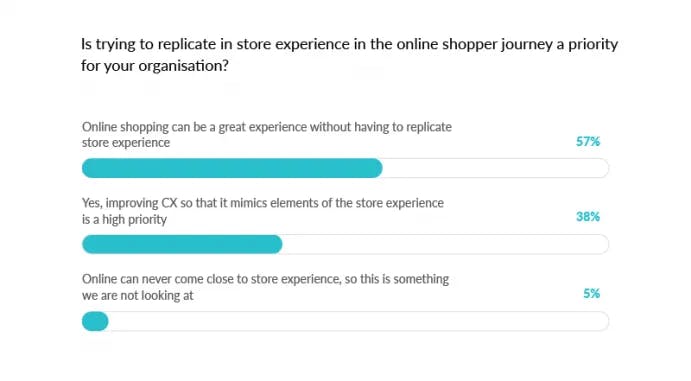 A quick poll where the participants' votes led to an exciting line of discussion! 
When you discuss personalization, one of the key focus points for personalization should be replicating the in-store interactions and service. Most consumers are comfortable with the offline store experience, so without disturbing their inertia, it works wonders if the offline store experience can be imitated. 
To do that, brands must fully understand customer motivations and behavior patterns. There are a plethora of solutions available for solving personalization challenges – but which one of them ultimately makes a difference? Ultimately it is about the relative value they drive. This, in turn, connects with what precisely a consumer's purchase journey is. Using a smaller set of SKUs and options, refining the decision is easier for customers, so the relative value is on par. 
Rules-based algorithms offer a very controlled environment for product discovery. However, letting the algorithms run allows customers to buy what they need and discover what they dream of. 
"This inspiration of customers is especially important in the luxury sector.", said a CXO of a high-fashion brand.
Personalizing services across large catalogs or luxury brands enables customers to buy alternate products or complete a look. Having a central hub of knowledge on customers that provides a single view of the customer – including interactions, transactions, preferences, what they have added to the cart, etc. – can add more data points to truly personalize the customer experience, including through sales associates in-store and online. 
What are the priorities that brands need to keep in mind while implementing Product Discovery? 
Incorporating personalization as a critical brand value is essential and is easier said than done. It's the same as an organization claiming they are agile – if you declare that, you probably aren't. Authenticity is far-ranging, and it doesn't belong to a particular function. It needs to be your company philosophy and help drive all strategic and tactical decisions. These beliefs need to live and breathe with the leadership team and go from the top down.
Most of the time, brands are looking from the inside out. Often inspiration comes top down. The view needs to change to outside - where customers will give you the direction you need to go forward. There should be involvement in the customer's voice in making decisions. There has to be a factor of inspiration when customers look at brands. 
The increased level of communication that brands now have means they need to share more with their customers about what they believe and are doing. In today's scenario, it's the least expected of brands. You need to listen to the customers, their choices and preferences, from their preferred time of purchase to their favorite colors or brand/make. It has to be two-way communication, where the customer is primarily speaking.  
There's a degree of educating your customers that needs to happen as sometimes it might be the case that what they're expecting of you may be unrealistic. Naturally, it's challenging to be authentic with brand-level marketing because the message is wide-reaching. 
To deliver the right message authentically, you need to segment your audience correctly and understand what that group is looking for and expects you to be doing, again a key tenant of personalization as a brand value. 
 It is easier for us to understand and give a genuine, authentic response to COVID-19 as opposed to other movements because we are all living it. It emphasizes that we must listen to the customers who have lived the experience before articulating our response. The idea is to fill the shoppers' shoes to understand what they really need or want and what they are looking for and, simultaneously, stimulate inspiration in them. That makes for a brilliant combination. 
As a brand, if you have understood the importance of product discovery at a strategic level, the need for personalization and refining the online shopping experience for your shoppers across various purchase journeys, and set your priorities right while implementing the product discovery solution, there's nothing that can stop you from creating a powerful customer experience on the online store. 
If you look forward to creating such an experience for your eCommerce store, please book a demo!