What is Personalization in Technology?
Starbucks, Nike, Disney, Lenskart, and Sephora, to name a few, use personalization effectively. Keeping up with trends, the brands offer a wide range of value-added propositions which include loyalty apps that provide personalized recommendations, early access to offers, early releases, customized physical goods, and augmented reality features for consumers to try on products. 
Let us first look at personalization in eCommerce.
Personalization in eCommerce is a business strategy aimed at improving conversions for eCommerce retailers. It allows eCommerce businesses to provide intent-driven consistent omnichannel experiences to every shopper. Some of the benefits of personalization in eCommerce are the improvement of customer experience, branding, conversion, marketing results, advertising, and metrics.
Now, personalization in technology is a big part of personalization in eCommerce. It includes tools and software that work by collecting, storing, and managing customer data to facilitate these personalized experiences. Any personalization engine should enhance the product discovery experience, improve conversion rates, increase average order value and instill customer loyalty.
Data Collection - One Complete View of the Customer
As a shopper, you interact with an eCommerce website from multiple touchpoints. A shopper will use the search bar, click on product or category pages, apply product facets or filters, browse through pages, add products to cart, and remove products from cart - before reaching the checkout. Considering the attention span of a user, they are unlikely to go past 3-4 pages (if we're being optimistic)). Post that, the shopper will drop from the website.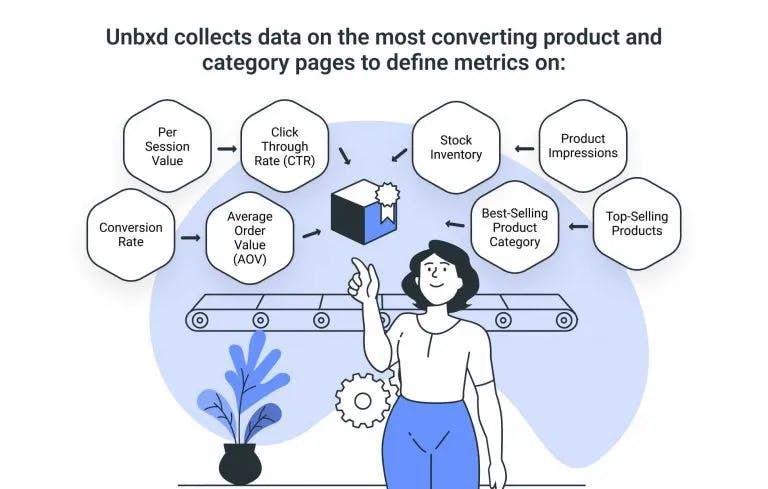 These metrics will help a retailer understand the audience that needs to be targeted by creating buyer personas. By understanding behavioral metrics and patterns of the user, retailers can optimize their merchandising strategy to drive conversions. 
This personalized experience is specifically designed for shoppers by way of dynamic product recommendations utilizing every shopper's unique data. However, Unbxd does not collect any PII data, we use a visitor's in-session data to create and develop personalization models. 
Trends and Tips to adopt Personalization Technology
How are you scaling your business? How will your online store look a year from now? Make right use of the new technologies and trends to up your personalization game. 
Trends
Making use of a shopper's data to present highly personalized product recommendations is a growing trend today. The majority of users are willing to share personal information in order to obtain personalized website experiences. 
Even though shoppers are willing to share their data, they want to remain anonymous. Every retailer fears that they will capture too little or no data. Unbxd solves for this by collecting only "in-session" data. Based on the most recent and current activities of the visitor, personalization is achieved. 
Product personalization is a major focus of eCommerce retailers, but it is not enough. The trend is to include price personalization in products. Deals, discounts, and price ranges tailored to each shopper will boost sales and build loyalty.
Tips
Choose the implementations that will help you reach your short-term goals, and then expand from there. Consider ROI, higher conversion rates, and where you can save. Don't let your technology slow you down. 
Get your teams familiar with the software and technology so they know what it does. Does the technology you picked work with other integrations? Think about it!
What's the point of your site if your shoppers drop off? Pick your technology with your end user in mind. The goal is to speed up the product discovery process!
Benefits of Personalization Strategies
Nearly 80% of buyers are more likely to purchase from an eCommerce store offering personalization.  So what's in it for businesses?
Boosts sales
ECommerce businesses that offer personalization at scale see their marketing costs reduced by 10-20%, sales conversion rates improved by 10-15%, and customer satisfaction increased by 20%. As you implement personalization tools at various touchpoints, such as marketing, product recommendations, on-site search, pricing, pre-and post-sales support, checkout, customer service, etc., these numbers are bound to increase.
Expands revenue streams
ECommerce revenue is greatly influenced by techniques like cross-selling and upselling. This makes them an excellent way to increase revenue streams. Thanks to a powerful recommendation engine, you can make better decisions about how to provide product recommendations.
Maintains customer loyalty
Personalization is essential for building loyalty among both first-time and repeat customers. Due to the oversaturation of the eCommerce market, businesses are now competing against each other to earn repeat business. Forrester found that 77% of buyers would recommend a brand due to its eCommerce personalization to new customers.
Builds recall 
The concept of selective attention proves crucial for eCommerce personalization success. This bias focuses on instant gratification through instant value offers and personalized content. 39% of shoppers get overwhelmed by too many options and drop off the site. A personal touch increases recall by providing a unique experience.
Conclusion
Shoppers are spoiled with personalized shopping experiences. It is through experimentation that you can find what tips and tricks of personalization work best for you.  A mix and match of the right set of tools will help you improve your conversion rates, sales, and customer lifetime value, and most importantly the shopping experience. You require a system of accessible unified data, architecture, technological foundation, and a personalization software tool like Unbxd. If you're curious about how we do it, read the second part of this blog. Stay tuned!