But why is it essential to show online shoppers what they are looking for?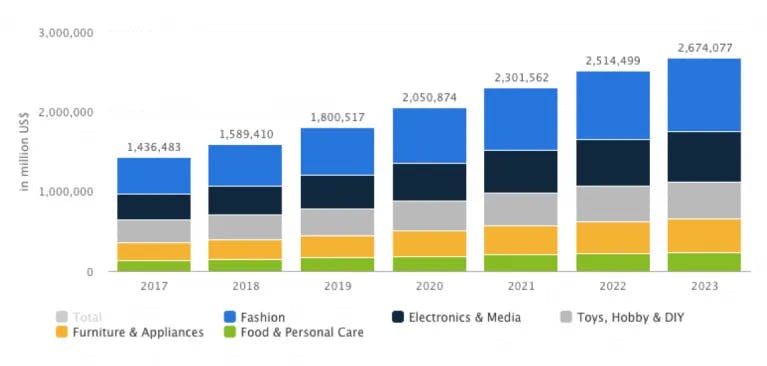 With the impact of Covid-19 changing the way consumers shop and behave, the surge in online shopping in the last two years has been unparalleled, with the momentum still alive and picking pace despite the reopening of physical stores.
Just over 2 billion unique shoppers around the globe made at least one purchase in 2021, of which 18% said they shop online at least once a week. Over the long term, the ecommerce market has plenty of room to grow and could increase from $3.3 trillion today to $5.4 trillion in 2026.
Is Site Search the key to acquiring and retaining customers?
Not all shoppers on your ecommerce website come looking for a product they have already thought of. While many shoppers know what they want, some are impulsive shoppers. Some of them just finished chatting with a friend who's referred you, and that's why they are on your site out of curiosity. Some love browsing through your product categories, while others simply compare products (which means they might have come from a competitor or clicked through an ad or a banner within Google or Amazon.)
30% of all shoppers use the site search within your ecommerce store. Interestingly, half of the people who use site search end up buying something on your Site – which means a conversion rate of 50% for the cohort of people who search. This makes it more vital for you to retain your shoppers and have them coming back for more.
These numbers indicate that shoppers who use the inbuilt search system are more likely to buy from your store because searching for a product shows a higher inclination to buy. Hence, as an ecommerce store owner, your search results page must display products they are looking for or are more likely to buy.
Before establishing the importance of Site Search for ecommerce, let us look at a few instances where a poorly designed search system can have disastrous consequences.
A shopper searching for a Wireless Headset on an online electronics store gets a list of wired headsets on the first page. While your store does have Bluetooth headsets, your search engine doesn't list the wireless headsets at the top of the search results page.
In another instance, a shopper searching for Hammocks types in 'hemlock within the search bar in a Home Improvement store – and gets a 'zero search results' page.
In both instances, your shopper is disappointed and heartbroken. While they still want to buy the product, your store's poorly designed search system drives them away from the competition. Your competitor's superior search algorithms get your shopper's attention and, ultimately, their business.
A single botched search experience can lead to shoppers having a negative shopping experience even if you have a wonderfully designed UI interface. You could have every single product under the sun within your catalog, but if your shoppers aren't able to find them when they want them, then your catalog is as good as trash.
Challenges with a poor Site Search solution
Sometimes customers search for 'shorts' when looking for 'boxers,' and sometimes misspell their query. Your search system should be able to recognize synonyms and colloquial terms your shopper types in so that they don't get zero results on the search page and hit a dead-end. 
An intelligent and efficient site search system factors in every possible search scenario to deliver the most relevant product recommendations as fast as possible, quickening the purchase cycle. 
Site Search solutions like Unbxd even autocomplete queries to recommend products that are relevant to the search query. The eCommerce industry calls this autosuggest (or autocomplete) because your system is configured to automatically suggest products that your shopper could be looking for, much like how a good salesperson would do in a brick-and-mortar store.
And what happens when you get all this right?
When you suggest the product your shopper is looking for, you leave an indelible impression in their minds. The shopper buys the product they came looking for but will return it whenever they want to buy something online. They trust you and will evangelize your Site to their friends, family, and coworkers.  
You've created value for your shoppers and added repeat business for your brand. It is a win-win!
We know a well-designed search system results in better conversion rates than normal, growing revenues for your business, and a higher lifetime value. An intuitive search system lets you inside the shopper's mind by telling you which products to stock by search queries resulting in zero search results. It also tells you what items the shoppers search for the most and gauges the latest shopping trends and behavioral patterns.
Analytics that you gather can help you create custom merchandising campaigns, create landing pages or promotions that will help you sell more, and add value to your shoppers' experience, ultimately pushing your bottom line.
Site Search plays a pivotal role in shaping your ecommerce business. In case you are wondering what is holding your sales down despite having the latest in fashion at your eCommerce store – it's time you look within your site and ask, How good is my Site Search system?  
Your search solution needs to understand how your shoppers think and their affinity to a brand or category, analyze their shopping behavior and correctly predict what they are most likely to buy. This, in turn, will help rank and produce relevant search results in front of your shoppers that will help your shoppers convert casual interest into a confirmed purchase.
Suppose all of this is working, hurray! Otherwise, you can contact us to find out what makes for a great site search solution.