Create targeted landing pages for new and repeat visitors using visitor segments
Segmentation offers a way to target your website visitors more accurately. It's a way to personalize their experience and establish a link between your marketing campaigns and the on-site experience.
One of the critical factors of eCommerce landing page success is the ability to target visitor segments with the appropriate product placements and merchandising offers. Using the merchandiser's insights to promote the right products and show accurate recommendations is key.
What are some of the top segments that you should create targeted landing pages?
Landing pages tailored to visitor segments
Different landing pages for new and repeat shoppers allow you to offer different product ordering, merchandising, and product recommendation options to them.
The question remains – How can merchandisers effectively target these two segments?
1) New Visitors
Shoppers can make purchase decisions based on social proof, a psychological factor that can be used to motivate them. To increase click-throughs and orders, merchandisers can promote popular brands or product types across the store.
Merchandisers can display trust-building inline banners such as 'Free Shipping,' 'Hassle-Free Returns,' or a significant holiday discount.
New shoppers should be shown recommendations for Top Sellers or Top Rated products. These make product selection easier and help shoppers avoid the paradox of choice.
2) Repeat Visitors
If you identify popular keywords that are searched by most of your repeat visitors, create merchandising banners containing discount coupons or free offers under those keywords.
Visitors should receive personalized recommendations like 'Recommended for you' and 'You recently viewed' to help personalize their experience.
3) Visitors from Different Traffic Sources
Visitors who land on your site through various customer acquisition efforts tend to look for different products. Therefore, you must know what products they're looking for and where you should lead them.
We found an interesting post on Unbounce where they used this excellent picture to show landing pages for different traffic sources. Consider this configuration below. Notice how each inbound source uses its landing page.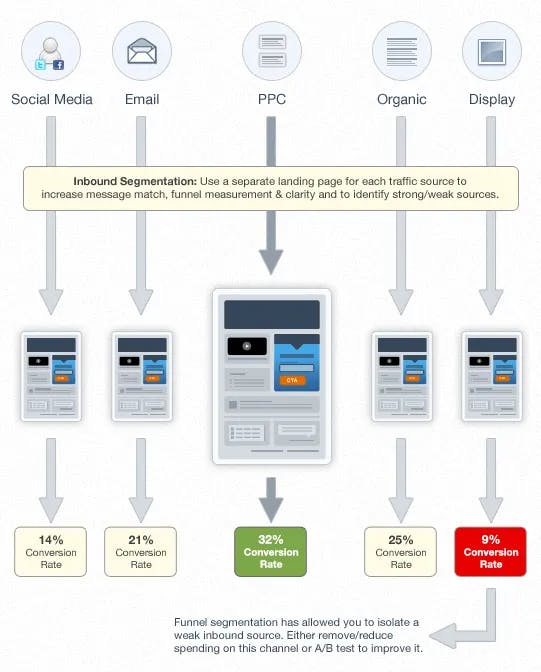 Visitors from Email Campaigns
You should recommend offers and products related to the email content you sent. 
Personalized recommendations 
Provide recommendations similar to those in email communications
Show consistent offers
If your emails mention offers/discounts, make sure you reiterate these offers and deals and establish a connection between the emails and the site experience.
Visitors from Organic Search
Understanding visitor behavior for this segment is essential to create a targeted landing page.
Visitors from Social Media
Social media visitors will look for additional social proof and signals while selecting products. Keep this in mind while creating your targeted landing page.
Product popularity on social media
Make a landing page dedicated to your products that do well on social media. For example, photos of shoppers wearing the products can help visitors understand what they can get from the purchase. By doing this, visitors will feel confident, and the trust factor will be established right away.
Recommendations with social signals
Use social signals like ratings, likes, etc., along with recommendations of popular products/brands to increase click-throughs.
4. Segment landing page for visitors from different Geographical Locations
Location-based recommendations
undefined
Relevant shipping offers
undefinedundefined
So there you go. What other holiday season tactics do you have up your sleeves?

Read this article - Get Holiday Ready: Data-Driven Merchandizing With Use Of Reports And Insights, to get more information about how to optimize holiday season merchandising, increase your conversions, and reduce manual effort to run promotional campaigns!