The Time Test – Bigbasket vs Honeyville!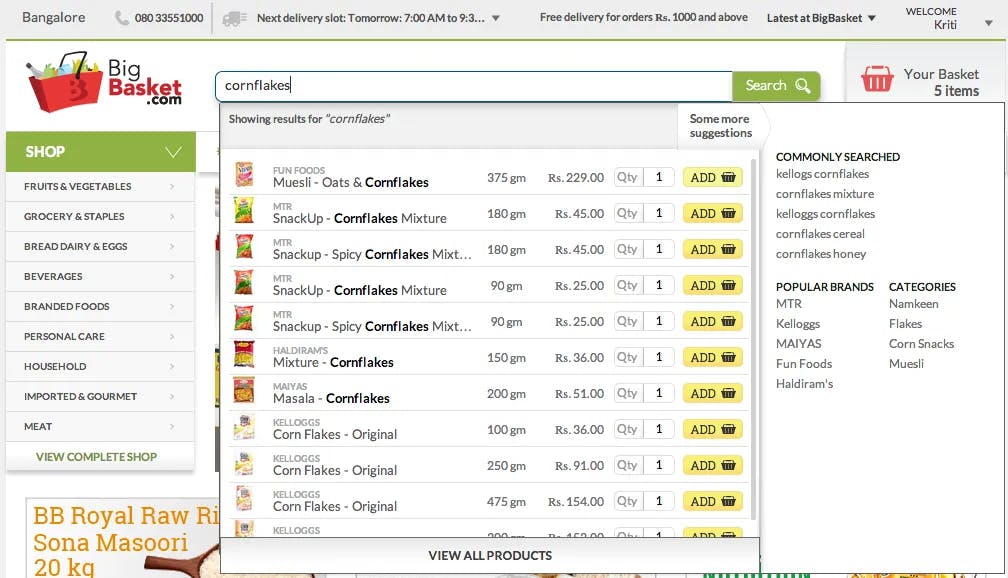 Through a time test to see how fast one could add a product to a cart on Bigbasket.com and Honeyville.com.
On both sites the search term was milk and my colleagues were instructed to select the first item in the dropdown (to keep things fair). We judged two things:
The number of clicks
The number of seconds taken to add a product to the cart.
Apart from adding the 'add to cart' button within autocomplete, there are a couple of usability techniques that can make this experience even superior.
Pro tip 1: Give Customers an option to alter the quantity:
Allow customers to edit quantity from within the autocomplete dropdown. This will make sure they don't suffer the frustration of having to go to a product page to change quantity.
Pro tip 2: Show personalized/popular products on top of your autocomplete suggestions:
This is a fantastic trick to enhance the relevancy of autosuggestions: The idea is that your repeat visitors tend to add the same products to their carts time and again. For your new customers, you can show popular products in the dropdown list. Popular products usually have a greater probability of being added to the cart.
Do You Use the 'Add to cart button' Within Your Autocomplete?
This call to action within your sites autocomplete can help customers save time and do wonders for the user experience of your site.
We'd love to hear what you think about this post. Do you know of any other ways online grocery stores can improve their search user experience? Do let me know in the comments below.