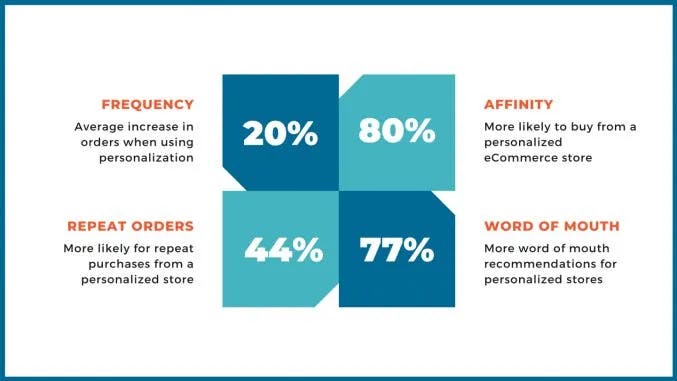 An average increase of 20% is observed in sales when using personalization. (Monetate)
 
What should ecommerce personalization look like for your online store?
As with most fundamental business strategies, the heart of ecommerce personalization relates to the improvement of the customer experience and a positive influence on the bottom line. 
And most importantly, where most businesses go wrong is that they should be customer-driven.
Your ecommerce personalization strategy should depend on what your business wants to drive but should be centered upon the needs and goals of the customer. The most fundamental tenet of personalization is that it exists solely for the customer. It should provide a conduit, a way for the customer to easily achieve the goal they have while navigating your website, rather than being informed and confused by what your business wants to push. 
Each customer on your site is unique, and the hundreds of ways in which they interact with your site, with different goals and desires. This makes each unique shopper and their preferences/traits difficult to account for. Added on top of the fact that the same customer can have different goals at different points of time, depending on special times like festivals or weddings, etc.  
True personalization doesn't look at who the customer is, but rather focuses on what the customer is trying to achieve then. 
While deploying a personalization strategy gets increasingly complicated, it's essential to cut through the noise and focus on the essentials. As with all big questions,  this mammoth question needs to be broken down and three simple parts – Where. What, and How?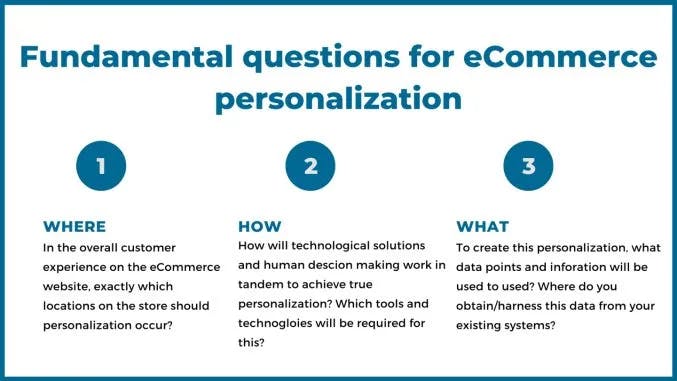 Where should Personalization Occur?
– that should be the first question that you answer while building your personalization strategy. Different businesses have different priorities.
For example, a clothing store might want to implement personalization in their Facebook and Google ads first by using Dynamic shopping ads while a mobile network plans retailer might look at implementing product recommendations first wherein top-up plans are suggested based on the existing plans of the users. 
To arrive at the priorities for your customer, there is no hacky or smart way around it – you need to sit and analyze your customer journey. Map out each touchpoint, element, and criticality in making a conversion happen. It can be product recommendations, email communications, customer service, site searches, social media ads, etc. The possibilities are endless, but it's important to not lose sight of the main goal and clearly define what is the priority that needs to be active in the next 10 days and what is something that can be pushed to next month. There is no one correct answer. 
For example, if we prioritize product recommendations during the purchase journey to boost AOV and increase conversion rate, the following are the strategies that are suggested.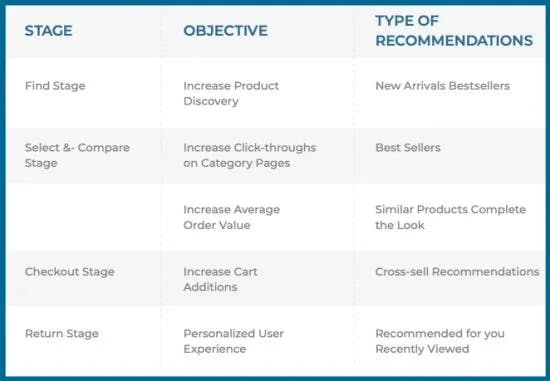 How?
Now that you have the where and what of the question, the next step is to understand how you are going to leverage these weapons in your arsenal to actually go about implementing personalization. How are you going to tie it all together into one cohesive process which is deployable on your systems? Read further on how you can do that.
What?
What information or data about your site visitors do you have with you? More importantly, what are the sources of these data? It can be your CRM, payment gateway, marketing automation tool, analytics tool, etc. 
Read more – How does data ingestion for systems works with agro workflows?
Make an exhaustive list of all the solutions in your tool stack which collect and act upon your visitor's data. Map out the data points that each tool provides. Map it to each of the touchpoints identified in the first step and make decisions on how each touchpoint should be personalized with the data available from your current tools. The exercise also gives valuable insights into what data points are critical to you, but are missing and hence which tools are required to plug in the gap. 
Fine now, that we know what we are talking about – let's talk details. The How. 
How to achieve personalization?
Cutting through the clutter, there is one major problem that each ecommerce store faces when there is a discussion of implementing personalization, there is not a single tactic or strategy that defines personalization. 
And that of course gets reflected in the myriad solutions that promise personalization.
There is no single strategy and hence no single solution that can enable end-to-end personalization for your store.
You cannot get up one day and say "Yes we did this experiment, and now we are personalized" (Wouldn't that be a dream?)
Each ecommerce store is like a unique dish, and just as each dish for perfection requires unique seasoning – each ecommerce store also requires its own unique recipe for personalization. 
The below table lists the basic strategies that are required to set up a basic personalization strategy for your ecommerce store. 
As it can be clearly seen, no single strategy will be enough. The need is to combine these strategies into a comprehensive spectrum that actually personalizes your eCommerce store. 
#1 Understanding the Audience 
The very essence of personalization boils down to this very simple statement – truly understanding your audience and then customizing the experience according to their behavior and needs. 
Are they new visitors to your websites? Probably you might want to show them your top-selling products right on the homepage. Are they repeat customers? You might want to show products that might be relevant to them based on their last purchase. For example, a person buying a sofa might also be looking for rugs and cushions! 
Gathering data about your audience, understanding it, cataloging it, and blending it with the right technology to ultimately personalize the customer journey. The data can be manifolds – geography, language, age, gender, purchase history, clickstream data, etc. 
Read more – How are retailers using AI to personalize their CX?
If you are a construction materials store, and you have a visitor coming in via search ads with keywords 'inexpensive bricks' – you need to show the best-selling, lower price range bricks on the landing page and NOT your best-selling bricks. The intent of the user is to get a good bargain, focused on price and not really quality. 
If you are a tourism package retailer, and a user who has booked flight tickets to a particular place visits your site again, they might be looking to buy hotel reservations or local experiences. 
Artificial intelligence-based solutions have proven to deliver this, very effectively at scale.
#2 Semantic understanding
The search engine on your ecommerce website can be called one of the most important functionalities on your website. Users searching for particular keywords clearly spell out their intent to buy. Poor search results or worst, zero search results lead to one of the highest bounce rates for eCommerce stores. 
Are they specifically looking for 'Gucci red shoes? That means that they have a high intent to purchase. Exactly showing the product or close products is essential at this stage. 
If they are searching for broader terms like 'party shoes', that means they might be more in the research phase.  At this point, analyzing their click patterns, and showing them the most selling products might be a good idea. 
Search is critical for ecommerce stores and can be actually set up in 5 mins, but very often eCommerce stores lose out on customers due to 'dumb' search i.e a basic search solution searches based on word associations, lacking even on basic things like filters and facets. In the current world, it should move beyond coherently understanding what the customer actually wants, and showing them the desirable product. 
Also, read – 7 pillars for an effective site search strategy  
#3 Audience Segmentation
Segmentation is one of the oldest marketing must-dos, much before the advent of the need for hyper-personalization. Each time a customer or visitor arrives at your stores or views/clicks on your promotional emails or ads, they create a tonne of information that is available for you to grab, understand, and act upon. 
A store with 100k hits every month consequently creates that much amount of data just by a sheer site visit by a potential customer. It's critical to catalog this data and use it to create segments of the overall audience based on multiple points. 
For example, during the last three months of the year, different regions in the world have different festivals, often roughly clubbed together as the Holiday Season.  If audiences are segmented based on this information, the product and content pushed to them will be customized accordingly. Visitors from India will be shown products and content related to Diwali, while a visitor from the United Kingdom might be shown products and content related to Christmas. 
Also, read – The top tips and tricks for a successful holiday season for eCommerce stores
Adding this level of intelligence to your CX is a hard job, and isn't really possible manually or with your basic merchandising tools. Machine Learning (ML) and Artificial Intelligence AI have proven to be extremely effective here. 
Read more – How retailers are leveraging AI for their brands?
Segmentation not only helps you understand what products to show your customers – it's much bigger and much more cross-channel than given credit for. It can range from dynamic landing pages, Facebook shopping ads, email content, content recommendations, push notifications, discount strategies, etc. 
#1:1 Personalization
1:1 Personalization is a strategy that requires extensive data collection, analysis, and deployment across cross-channel environments and is often used by both merchandisers and marketers. 
Read more – Visitors trust you with their data, how should you maintain security in your store?
1:1 Personalization can take many forms. For example, email marketing is a really good medium to develop an intimate medium of communication with a customer, if effective 1:1 personalization is implemented. An effective 1:1 personalization here would enable the brand to create a compilation of suggested content, product recommendations, and a personalized note all based on the user's past buying and site browsing behaviors. This takes traditional product discovery to the next level. 
Another example is the 'You might like…', and 'Others purchased…' communications built on algorithms like 'Bought also bought' and 'Viewed also viewed'. These product recommendation strategies, subtly placed at the correct location in the customer journey end up boosting the AOV by up to y%! 
How to Get Started?
Implementation of personalization on your ecommerce should not be a stop-gap strategy and it needs to be given the time, patience, and planning that it deserves – to actually see positive incremental results.
Personalizing your ecommerce is not just the question of buying a solution – it's something that is an everyday effort and needs to be ingrained in your brand ethos.
Broadly speaking, the process to get started with the personalization of your ecommerce can be divided into 8 phases. 
Phase 1 
Time – 14 days
Where and How 
Analyze and decide the two important aspects – where in your website and customer journey you need to personalize. And what will this personalization look like? This can be done by a careful analysis of your customer journey, the behavior of visitors on your website, and what's the impact on revenue that is being aimed for. 
Phase2
Time – 10 days
Solution Business Requirement Document (BRD)
Construct a business requirement document (BRD) that carefully analyses the available solution for personalization in the market, your immediate and long terms requirements, a detailed list of required features, and ultimately how the finalized list of solutions matches your requirements. Of course, along with these important factors to consider are ease of use and cost analysis. 
Phase 3
Time – 4 days
Resource Allocation
Designate a specific POC for the personalization project. Allocate definite budget, timeline, and goal projections for 3, 6, 9, and 12 months and these in turn become the project's KPI for the POC.
Phase 4
Time – 8 days
Strategy roadmap
Define a long-term personalization strategy that clearly defines the positive incremental improvements that should be seen in specific periods over 3 years. Provide a set of directive principles of how the optimization process should be so that it provides a framework for further decisions and strategies. 
Phase 5
Time – 20 days 
Segmentation and early days
Analyze your available visitor data, possible sources of data, and how they flow into your systems. This should enable you to craft broad segments of audiences based on available data. Construct long-term directions of how the segmentation should look in the coming 2 years so that the process is living and evolves over time. 
 You can start personalizing some aspects of your website which will obviously benefit a lot from personalization, for example, your homepage, search results, email communications, and Google/FB ads.
Phase 6
Time – 60 days 
Tracking and Optimization
Constantly track how your strategies and efforts are performing on the predetermined KPIs, and most importantly how they directly impact your revenue. 
 Set up a biweekly cadence of touch-base with important stakeholders to monitor how the main KPIs are performing and their relation to the strategies that you are implementing. Optimize and make changes as and when required. 
Phase 7
Time – Ongoing
Scaling
Carefully segment the entire list of macro strategies and micro tactics that are working and not. Start incrementally scaling the successful strategies across various parts of your business and constantly track how they perform on the scale. 
The way ahead
Personalization for your ecommerce store is something which will keep evolving. It's not simply a question of doing an A/B test and concluding – hey, we are now personalized! 
True personalization goes beyond simply employing a technology to something which should be a central part of your brand ethos. 
A regular feedback loop of what is appreciated by customers and what is not is extremely crucial. Regular sync-ups of stakeholders with a keen look at the data generated, with a focus on what the impact is on CAC, AOV, and LTV is critical. 
Personalizing your ecommerce brand is a journey and not a destination. Regular updates to your strategy with incremental improvements on key metrics are what can make you a great example of personalization among ecommerce stores. 
Unbxd can help you personalize your site's commerce search and recommendations. Interested to see it in action? Book a demo today.