Smooth and intuitive search
One of the worst experiences to encounter while attempting an online purchase is not finding what you're looking for. Therefore, ensuring your site can handle complex search queries is integral to a good shopping experience. Shoppers using internal site search show a 216% increase in conversion rate and a 21% increase in average order value over customers browsing a site. 
Despite having such credible statistics backing the importance of intelligent site-search and navigation capabilities, it's surprising to note a considerable percentage of online retailers fail to understand the importance of an impeccable site-search experience. 
According to eConsultancy, only 15% of companies have dedicated resources to optimize the site search experience, while a whopping 42% completely ignore it. 
Search — on the web and on-site, is especially important during the holiday season as shoppers using search score a lot higher on intent to purchase than shoppers just browsing a site. 
Research by Google indicates shoppers using search are 1.5 times more likely to buy than those who don't use search.
People using search during holidays are also much more likely to buy (140%) than those who search at other times during the year.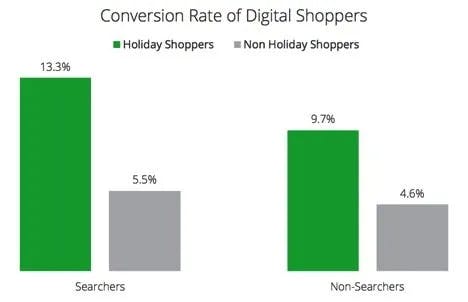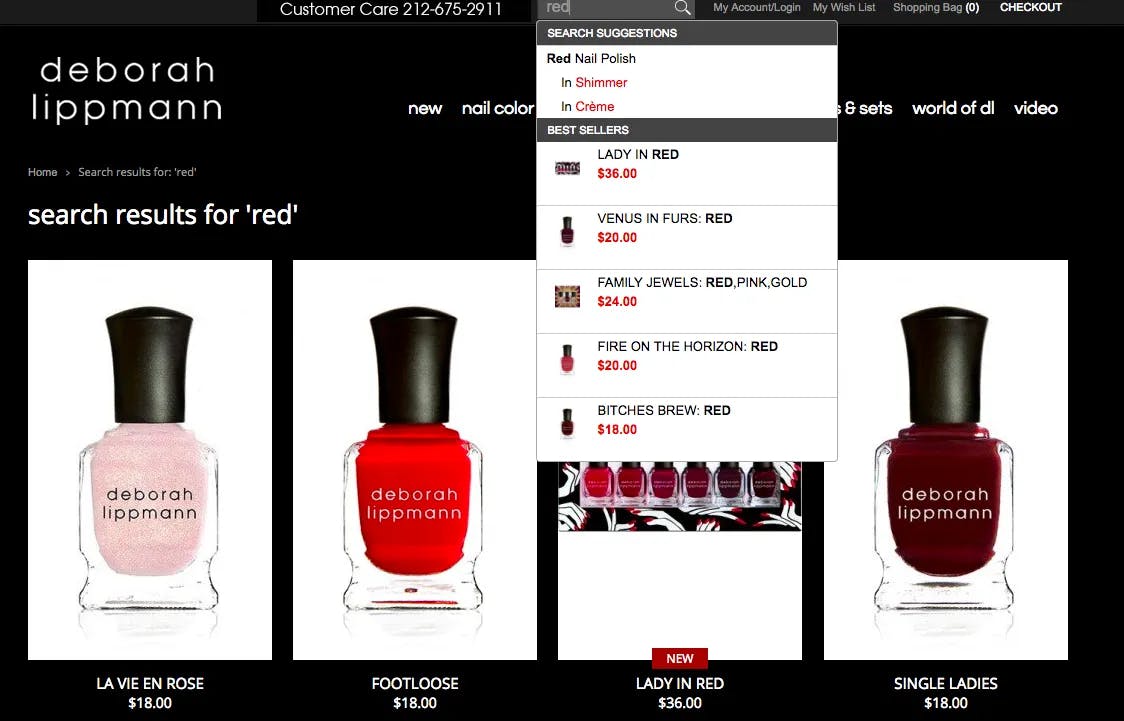 Leading beauty brand Deborah Lippmann saw a 40% increase in conversion rates after enhancing their website's overall site search functionality.  
If you're looking to increase conversions, improve the shopper experience, and ensure repeat customers on your site this holiday season — direct your attention to the little search bar on your site.
Know who you're selling to
75% of customers prefer it when brands personalize their messages and offerings to reflect what they want. Personalization of content and marketing messages is a given, but what about personalization in ecommerce?
As a result of personalization, 93% of companies saw an increase in conversion rates. Direct 1:1 personalization relies on understanding and analyzing the purchase behavior patterns of a large user base. However, advanced AI and machine learning techniques have enabled segment and target customers even when the data pool isn't as diverse.
Recommendations that consider previous purchases, similar user behavior, geographical location, device type, number of visits to the site, and channel are just some parameters that can help companies personalize the experience on their site.
Be mobile-ready
Nearly nine-in-ten Americans today are online, and roughly three-quarters of them own smartphones. 
The ease of shopping on a device that almost feels like an extension of your arm makes mobile the next big ticket item for sites vying for attention this holiday season. Research shows the convenience of one-page checkouts and digital wallets improves mobile conversion by 10%. 
The trend of using mobile solely for research and desktop purchases is no longer relevant as tablets and smartphones already account for one-third of all online purchases, especially during the holiday shopping season. Data gathered by search advertising firm Hooklogic showed that conversions (on mobile) were 2.4 times higher than average. At the same time, traffic was more than 1.5 times higher during the 2015 holiday shopping season, indicating that consumers were buying, not just researching. Online purchases made on mobile accounted for 18% of all sales during the holiday shopping season in 2016. Search marketing agency NetElixir predicts this number will touch 35% this year.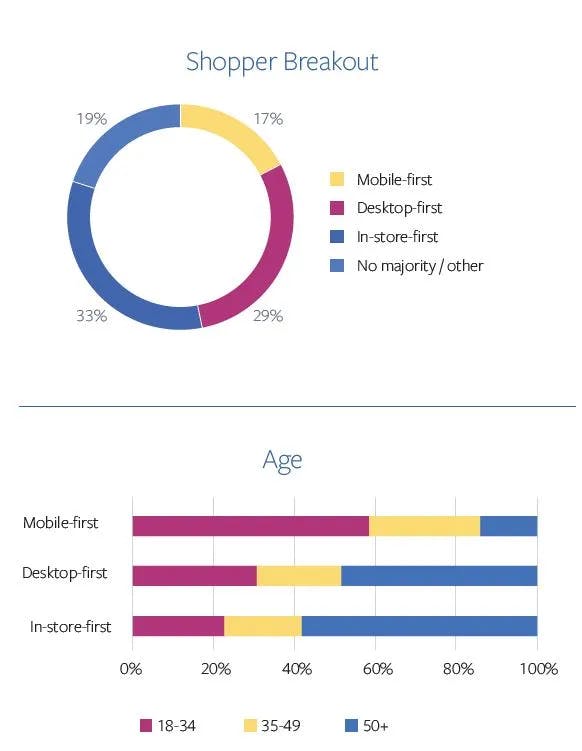 But mobile readiness isn't all about conversions. Digital interactions now influence 56 cents of every dollar spent in brick-and-mortar stores, according to Deloitte Consulting. Consumers today are constantly browsing — looking for products, bookmarking items, and scouting for the best deals. 
As per a recent survey by AlixPartners, 92% of polled respondents planned to use online channels to research their holiday purchases. Ensuring an intelligent and easy-to-browse UI coupled with reliable payment options is a must-have in your list of things to do this holiday season.
Conclusion
Dwindling Black Friday turnouts and booming online sales show shoppers' priorities have drastically changed over the last few years. Battling crowds and long checkout lines along with out-of-stock products are the top reasons keeping shoppers away from retail stores.   
As brands, online or offline, are ready for the busiest sale time of the year, the most crucial aspect is ensuring a pleasant customer experience irrespective of where they purchase. Customers and their purchase decision journeys have evolved in the digital world, and keeping up with these changes is no longer about playing catch-up. 
By incorporating superior search capabilities on their websites, analyzing behavioral data to influence recommendations, and ensuring a seamless and convenient purchase experience, brands can provide customers with a delightful shopping experience this holiday season. 
The shoppers are coming: are you ready? 
Bolster your site with intuitive site search and category pages, intelligent product recommendations, and attractive custom campaigns that wow your customers this holiday season. Get a free, personalized report to find out how Unbxd can help, book a demo!