7 pillars of an effective eCommerce site search solution
Many businesses seem to forget that shoppers still make 85% of their purchases via a journey connected to an experience they've had. Here below are the 7 integral pillars of your eCommerce site search solution that I will explain in detail as we go further. They are as follows:
Infrastructure
Relevancy
Insights
Optimized for conversions
Merchandising
Integration
User Experience
1. Infrastructure
Like physical stores, an eCommerce store should have a stable infrastructure, be secure, and remain accessible 24/7. You need a system that cares about your customers just as much as you do. The key infrastructures necessary to support eCommerce applications are networks, Web servers, web server support and software, electronic catalogs, web page design, and Internet access components. While it is right that you need to stay a step ahead of competitors, it is more important to keep your shoppers safe on your site by securing your website with an SSL certificate. If your eCommerce site doesn't run as quickly and as reliably as shoppers expect, the only things your business will experience are high bounce rates, lower conversions, and more abandoned shopping carts. Having the right set of platforms to build on is very important to derive the maximum output from an eCommerce site search solution.
2. Relevancy 
Historically, businesses focused on selling products and sacrificed customer satisfaction in the process. Today's shoppers look for meaningful retail journeys. They expect online stores to enhance if not augment a brick-and-mortar store. They also expect that experience to be consistent. Tracking your shopper's preferences and getting them exactly what they want when they want it is relevant. But that's not all. Showing relevant results after a search on your eCommerce website is the fastest way of making a sale. Therefore, an eCommerce site search solution can aid you to show relevant results to your customers. Because consumers can buy products anywhere, so to grow, you need to create unique and personalized experiences. Else, you risk losing customers and business faster than you can say  'Free Shipping.
3. Insights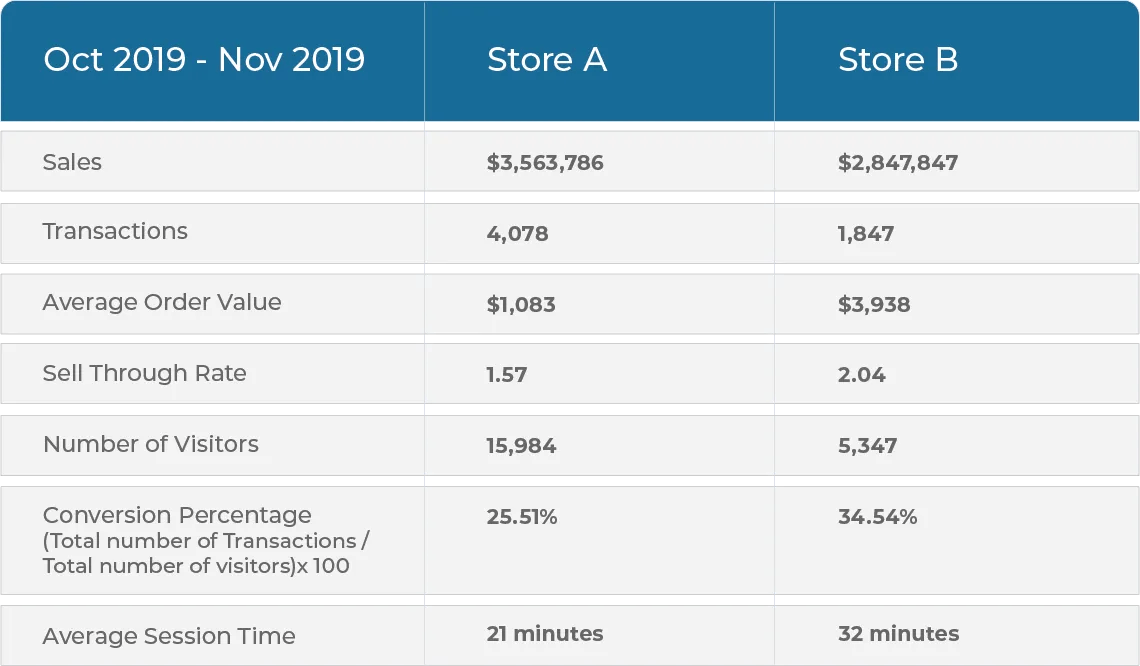 In a world of 'Amazon' and 'Google,' traditional merchandisers need to track and analyze actionable user events to drive personalized merchandising and marketing campaigns. As shoppers spend more time online, they generate massive troughs of raw data about what they do and how they behave. Retailers and merchandisers can use business intelligence solutions to turn unstructured customer data into powerful, actionable insights. Using a data-centric approach, you can understand and analyze shoppers' purchase patterns to create and consistently deliver tailor-made retail experiences. As a merchandiser, you can understand which products are doing well and which aren't. This insight allows you to manage your inventory optimally to achieve the maximum Return On Investment (ROI). Let's consider the revenue statistics of two online stores that sell similar brands of fashion clothing.
At first glance, it would appear that Store A is doing better than Store B. Surely Store A has 3x more transactions than B and has more sales. But if you look closer, you'll realize Store B has better Conversion rates, Average Session times, and a higher Average Order Value than A. Asking the right questions can help you get more insight into what you can do to improve conversions.
How is a shopper's retail experience while searching, browsing, and completing an order?
What encourages shoppers at Store B to spend longer? 
Why are shoppers spending more while shopping in Store B?
What is Store A doing that is attracting more shoppers to their store? Can Store B replicate this?
How are the two stores' site search solutions built?
Seeking answers to these questions will help you trap lost product placement opportunities and get that extra order to your cart. For instance, as someone who is training to compete in a triathlon, I searched for bodysuits. Still, I had to refine my search to find bodysuits capable of withstanding the open seas' temperature. If the site had advertised bodysuits apart from swimming trunks on the 'Swim wear' page, I wouldn't have had to refine my search filters. Thankfully (for the site), I had the patience to search. I'm sure there could be many others who didn't have the patience to dig deeper and just left the site midway. Using user-driven insights can help you position your products correctly, fix issues with product suggestions, optimize merchandising options, predict demand, and resolve supply issues before they crop up. After all, failing to plan is planning to fail.
4. Optimized for Conversion
The one metric most entrepreneurs and merchandisers care the most about. But conversion only happens automatically and will grow your revenue if you optimize it. For example, according to Forrester, 1/3rd of all retail sales in 2018 were done through mobile devices. In other words, If your store provides a great mobile experience, you are gaining out on a third (or more) of all sales. Period. 
For shoppers, optimizing for conversion means they interact with an online store that 'studies' their behavior (using AI and ML), 'understands' the way they 'speak' (using Natural Language Processing), corrects incorrectly spelled queries (using built-in Autocorrect and Spell Check), and suggests the right products on the fly (using Semantic Search Relevance engines). For you, optimizing for conversion means shortening the time and effort your shoppers take to search, browse, and buy a product from your store. To understand how you can optimize your conversion rates, think about what you'd like to experience when you're shopping. Would you like to view high-resolution images and different angles of a particular product? 
Research reveals that multiple high-res images allow a shopper to 'touch and feel' a product online, increase conversion by 3x, and reduce product returns by half. So will you return to buy something online? How about if you get limited-time discount coupons that you can use when you return?
5. Merchandising
Simply put, merchandising is the art and science of displaying the right products and offers at the right place, time, and price on a website to increase sales.
There are a couple of ways successful retailers do this: 
Home Page
As you navigate to Amazon's homepage, you are immediately struck by the personalized recommendations and tailor-made promotions that greet you. Within seconds, you are presented with product images that appeal to you and irresistible display offers. You can't help but feel delighted as you see products based on your shopping and browsing history.
But the cherry on top is the free shipping that is offered, making you even more eager to stay and shop. It's clear that Amazon has put a lot of thought into evolving its homepage over the past decade, and it's paid off in spades.
Unbxd can do all this for you as well, helping you capture your shoppers' attention and keep them engaged. By implementing these tips and tricks, you, too, can create the ideal homepage that keeps your customers coming back for more.
Category Page
Over the past few years, shoppers have increasingly turned to Amazon instead of Google when searching for products. One company that has adapted well to this shift is Lowe. While their category pages may not be flashy, they effectively guide shoppers through multiple levels to the product they seek. Alternatively, shoppers can use filters to navigate to the product they want quickly. In either case, Lowe's approach is reliable and effective.
Product Display Page
Shoppers are traditionally accustomed to using the Product Display Page (PDP) to learn more about a product before adding it to their shopping cart. As a merchandiser, this is your opportunity to convince the shopper to make a purchase. Therefore, it's important to carefully choose your CTA options and provide shoppers with sufficient information about the product.
Including comprehensive product descriptions, user reviews, and testimonials can help shoppers make informed decisions before committing to a purchase. Not only will this ensure that shoppers know exactly what they are buying, but a detailed product page with high-definition images can also help reduce returns. A study found that a store's conversion rates increased by 24% when it added customer photos to its PDP.
Cart Page
As the shopper nears the end of their shopping journey and prepares to complete their order, it's important to ensure that the process is as smooth and hassle-free as possible. This means eliminating unnecessary distractions and making it easy for the shopper to understand what comes next. It's also important to prioritize the safety of the checkout process.
One way to simplify the checkout process is to continuously test and refine it, looking for ways to make it even more efficient. You can also identify shoppers who have abandoned their cart mid-process and try to encourage them to complete the purchase. By following these steps, you can ensure that the checkout process is as seamless and successful as possible.
6. Integration
In today's digital landscape, the internet is overflowing with stores, and it's easy for shoppers to find your competitors with a quick Google search. While shoppers may scour the web for their next retail fix, they are often more likely to visit and make purchases from more established brands due to their popularity, accessibility, security, variety of products, and familiarity.
Marketplaces attract millions of visitors daily, and it can take time and effort to get a fully functional site search up and running or build one from scratch. However, a well-defined site search engine can be a powerful tool that helps you solve unique issues and cater to the specific needs of your business. This is especially true for small and medium-sized enterprises or multi-billion dollar enterprises, as their site search needs are likely to differ.
At Unbxd, we understand that what works for one store may not work for another, and that's why we work closely with our clients from the moment they sign on until their store is ready to go live. We take the time to understand each business's specific needs and use cases, whether in the fashion industry or selling groceries online. By providing personalized solutions that cater to each store's unique needs, we can ensure that your site search engine solves real issues plaguing shoppers and makes their shopping experience as seamless as possible.
7. User Experience
According to Adobe, 38% of shoppers will leave a website if they find it unattractive. This is why corporations worldwide invest billions of dollars in understanding how to create clean, easy-to-navigate, and intuitive interfaces. As an eCommerce store, ensuring that your interface converts casual shoppers into confirmed buyers is essential, as real-time human interaction can be crucial in this process. Likewise, as a merchandiser, you need positive and negative feedback to drive the overall user experience and improve user perception.
Gone are when an aesthetic template was enough to lure shoppers in. Research shows that 76 out of 100 visitors abandon their cart mid-checkout, which are alarming statistics. Just like a brick-and-mortar store, your online store should reflect your brand while also delivering the user experience that shoppers have come to expect. A great example is Amazon, which has used feedback from millions of shoppers to refine and improve its interface over the years, making it personalized, polished, and more human-like.
From the home page to the checkout process, it's important to ensure that interactions with shoppers are logical, transitions are simple and natural, feedback is provided in real-time, and features are added to enhance convenience. 
As Sir Richard Branson said, "The key is to set realistic customer expectations and not to meet them but exceed them – preferably in unexpected and helpful ways."
Compared to physical stores, online customers will feel free to switch to a competitor if they think it will provide a better experience. This is why it's so important to prioritize the user experience on your eCommerce store.
Conclusion
In conclusion, running an eCommerce store may not be particularly difficult, but making your brand stand out and creating value for your customers is a science. A site search solution can help your brand connect with shoppers, guiding them on their journey on their own terms and making the entire experience seamless. No single aspect of eCommerce search is more important than any other, and it takes years of hard work and dedication to bring it all together and build a successful business.
However, if you want to save yourself some time and effort, you can always use a site search solution like the one offered by Unbxd. If you're interested in learning more, you can book a demo with us and let us build your site's search engine while you focus on your brand.